NICE social care guidelines and quality standards are not mandatory. However, they can be used for a wide range of purposes both locally and nationally, to improve the quality of health and care services, including to:
Support the provision of care that has been shown to work and to be cost-effective
Ensure a more consistent approach to social care provision across the country
Support the development of joined-up working between agencies and professionals
Help the social care sector demonstrate its importance as a key partner in the provision of care
Raise the profile of social care
Working in partnership with other national organisations
Ensuring that people receive high quality care relies on a complex set of responsibilities and relationships between practitioners, provider organisations, commissioners, service users, regulators such as Ofsted and the Care Quality Commission (CQC) and other national bodies including NICE, government departments, professional bodies such as the Association of Directors of Adult Social Services (ADASS), provider national bodies such as the Care Providers Alliance and other bodies such as the Social Care Institute of Excellence (SCIE).
It is important that everyone works together in partnership to ensure that key audiences are aware of NICE quality standards; can see how they fit in with the existing regulatory frameworks and understand how they will enhance the quality systems already in place. NICE works with these organisations to establish how our guidance and quality standards fit in with the existing frameworks and reinforce the work other organisations are already doing.
How NICE quality standards fit with the regulatory and quality frameworks for social care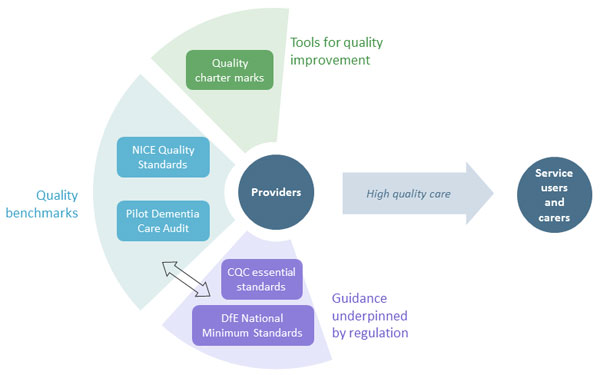 The strategic planning and day-to-day delivery of social care is carried out by local authorities, the organisations they commission and others that provide services. Statutory frameworks already exist to regulate this. NICE quality standards are intended to build on and go beyond these frameworks, providing a practical tool for local authorities and other to help deliver good health and wellbeing for users of adult and children's social services.
CQC Essential Standards
NICE quality standards which cover adult social care complement and reinforce CQC Essential Standards for regulating adult social care. NICE quality standards and social care guidance will show providers how they can continually improve the quality of care above and beyond CQC standards and aspire to deliver high quality care.
Watch Andrea Sutcliffe, Chief Inspector for Adult Social Care at the Care Quality Commission, explain how NICE guidance and quality standards support improvement:
Department for Education National Minimum Standards
NICE quality standards that cover the care of children and young people complement and reinforce DfE's National Minimum Standards, which are used by Ofsted and other agencies to regulate and make recommendations for care homes, adoption and fostering services.
More detail about the existing CQC and DfE regulatory framework, that will underpin NICE quality standards, can be found at the bottom of this page.
Other social care policy and quality initiatives
Adult Social Care Outcomes Framework
NICE quality standards and guidance for social care will help to ensure that the measures in the Department of Health Adult Social Care Outcomes Framework are aligned with recommendations in NICE guidance for improving quality in the social care system.
Prime Minister's Dementia Challenge
The Prime Minister's Dementia Challenge includes a commitment to offer financial rewards to providers who are offering quality dementia care through Dementia Commissioning for Quality and Innovation (CQUIN). From April 2013 access to these rewards will depend on delivering care in line the NICE guidelines on dementia. The Dementia Challenge also features the Dementia Care and Support Compact, which providers have signed up to as a quality marker to show they are providing good quality social care.
Care and Support White Paper
The Care and Support White Paper (Caring for our Future), sets out principles and responsibilities for achieving high-quality care. The White Paper outlines how a library of NICE social care quality standards will provide commissioners and providers with evidence based descriptions of what good quality care looks like and will help service users, their families and their carers understand what care they should be getting.
Bringing Clarity to Quality
NICE quality standards have also been highlighted in the Department of Health's 'Bringing Clarity to Quality' initiative, as a good source of evidence to ensure that a clear concept of quality care and support is embedded and understood.
Care audit
To help care providers test themselves against national quality standards, the Department of Health will work with care providers to develop and pilot a new, nationally agreed, care audit for local use in 2013 and 2014. The pilot care audit will focus on dementia care. It will help residential care providers to focus on delivering high quality dementia care by allowing them to test the quality of their care practice against the nationally agreed NICE quality standard for the care of people with dementia.
My Home Life
As with the Dementia Care and Support Compact, My Home Life is recognised in the sector as a quality marker for good quality care and an effective way of spreading good practice nationally and within organisations. Like the compact, My Home Life is one way of encouraging healthy competition between providers and improving the overall user experience.
The regulatory framework for the social care sector
Care Quality Commission (CQC) Essential Standards of quality and safety
The CQC, as the independent regulator of health and adult social care in England assures essential levels of safety and quality of health and adult social care. Under the Health and Social Care Act 2008 NHS and independent providers have to register with CQC and meet a set of essential requirements of safety and quality. The requirements focus on outcomes, not detailed inputs. Providers can run their services as they wish, so long as they provide safe and effective services that deliver the required outcomes for service users. When CQC inspect providers to comply with the essential standards, they focus on one or more of the 16 that most directly relate to the quality and safety of care. If CQC find the regulations have been breached, they will take action to ensure an improvement in the service. The action will be proportionate to the impact the breach has on service users and how serious a breach it is.
The Children Act 1989 regulatory framework
The Children Act 1989 provides the legal framework within which the requirements of local authorities responsible for looked after children and care leavers are set out. The powers and duties that Act places on local authorities are underpinned by secondary legislation (in the form of Regulations) and statutory guidance, which is issued under section 7 of the Local Authority Social Services Act (LASSA) 1970 and must be followed unless there is an exceptional reason to depart from it.


Further information about the legislative framework.
Department for Education (DfE) National Minimum Standards
There are National Minimum Standards (NMS) for a range of settings. NMS are issued by the Secretary of State for Education under the Care Standards Act 2000. The NMS for Fostering Services and Children's Homes are designed to be applicable to a wide variety of fostering service and children's homes settings. They are intended to help providers to develop their own ethos and approach based on evidence that this is the most appropriate way to meet the child's needs. Many providers will aspire to exceed these standards and develop their service in order to achieve excellence. NICE Quality Standards can help them achieve this aspiration. The NMS are issued for use by Ofsted, who take them into account as part of their inspection and regulatory role. The standards may be used by providers and staff in the self- assessment of their services as well as providing a basis for induction and training of staff. They can be used by parents, children and young people as a guide to what they should expect as a minimum a provider should do.
The Ofsted Inspection Framework for looked after children's services
Ofsted has been developing a new inspection framework for the inspection of local authority (LAs) children's services. NICE quality standards will be one of the tools available to LAs looking to develop and improve their services.
Our aspiration for NICE social care guidance and quality standards - how we see them being used:
As a user of care services, NICE's quality standards support me in my choices about who provides care for me, and in knowing what to expect from a good quality care service. They empower me to ask the right questions about the care I receive, and give me a sense of control about what options are available to me.
NICE's guidance and quality standards provide me, a practitioner working in social care, reassurance that the care and support I provide is based on the best available evidence. The guidance offers me practical support in my decision-making; keeping me up to date on what good quality care looks like as part of my professional development.
As a provider of social care services, I can use NICE guidance and quality standards to ensure, and therefore demonstrate that I provide high quality care, based on the best available evidence. They help me in my auditing to improve the quality of services I provide, and support me in discussions I have with commissioners.
Commissioning services using NICE quality standards allows me to meet my duties as a local authority commissioner to promote integration of health and social care, and support me in ensuring the services I commission are high quality, providing innovative and creative solutions to doing more with less resource. On the practical side they inform my contract monitoring and audit processes.
Following NICE quality standards allows the local authority I work for to meet the duty of promoting integration of care, make evidence-based decisions about the commissioning and de-commissioning of services, and provide robust business cases for providing the social care services the community needs.
I find NICE quality standards useful when our overview and scrutiny committee meets to question the local authority on whether they are meeting the social care needs of the community who elected me. It's easy to be sure that the authority's commissioning strategies are evidence-based and include appropriate measure to demonstrate continuous improvement.
Our local health and wellbeing board uses NICE quality standards to ensure our commissioning strategies are evidence-based and include the right measures to demonstrate continuous quality improvement.
NICE quality standards are an invaluable tool our local Healthwatch uses to hold the local authority and the health and wellbeing board to account for the quality of local social care provision.
As a provider of workforce development and educational resources and services to those working in social care, NICE quality standards help me ensure the materials we create are evidence-based, and are used to inform training and development strategies and courses.
Social care research is informed and developed by NICE quality standards, allowing us to identify gaps in the research and inform research method development.