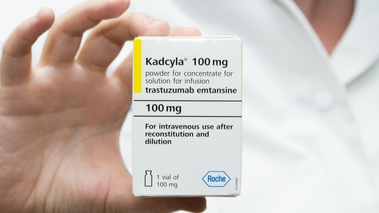 Breakthrough Breast Cancer said that NICE had gone "over and above their usual processes" to try to approve the drug, while Breast Cancer Campaign recognised the flexibility shown by NICE in its assessment of the drug.
NICE applied its flexibility for assessing the cost-effectiveness of end-of-life cancer drugs, but concluded in final draft guidance that the high price of the treatment is still unaffordable for used on the NHS.
Generally if a treatment costs more than £30,000 per quality-adjusted life years (QALY), it would not be recommended as cost-effective by NICE. In terms of Kadcyla, the QALY value was estimated at about £166,000.
Currently, the drug is being funded at its full list price of more than £90,000 per patient via the government's Cancer Drugs Fund.
Kadcyla combines Herceptin (trastuzamab) with a chemotherapy agent to treat women with HER2-positive breast cancer that has spread to other parts of the body, cannot be surgically removed and has stopped responding to initial treatment.
The drug has been shown to extend overall survival by around 5.8 months when compared with treatment with lapatinib and capecitabine.
It is estimated that around 1,500 women in Britain could benefit from the drug every year.
Sir Andrew Dillon, Chief Executive of NICE, said: "Although Roche proposed a discount to the full list price of Kadcyla, it made little difference to its value for money, leaving it well above the top of our specially extended range of cost effectiveness for cancer drugs.
"We are really disappointed that Roche were not able to demonstrate more flexibility to help us provide a positive recommendation. The company is well aware that we could not recommend Kadcyla at the price it proposed."
Sir Andrew added: "Roche considers that the 2014 Pharmaceutical Price Regulation Scheme (PPRS) agreement includes an expectation that NICE will ignore the price a company asks for its product, because the agreement provides for a rebate to be paid, by the pharmaceutical industry to the NHS where expenditure on branded drugs rises above an agreed level.
"The agreement does not contain this expectation because both the Association of the British Pharmaceutical Industry and the Department of Health agree that obtaining value for money from new drugs is in the interests of the industry and the NHS."
Sally Greenbrook, Breakthrough Breast Cancer's Senior Policy Officer, said: "Sadly this news has not come as a shock to us - Kadcyla is a brilliant drug, but it's also incredibly expensive. NICE have gone over and above their usual processes to try to approve it but despite this, and the discount offered by the manufacturer, the revised price for Kadcyla is still too high to be considered cost effective.
"We believe all cancer patients should be able to access the best possible treatment but for this to happen within the confines of the NHS budget, prices set by the pharmaceutical industry for impressive, life-extending drugs such as Kadcyla must come down. It's impossible to put a price on life's precious moments. But it's not impossible to put a fair price on drugs.
"We want to see the Department of Health and the pharmaceutical industry working together to find a long-term solution to this ongoing problem and a sustainable system put in place by which new treatments can be made available to those that need them. Until then NICE will be forced to reject these cutting-edge treatments, leaving people facing terminal illnesses with fewer treatment options."
Mia Rosenblatt, Head of Policy and Campaigns, at Breast Cancer Campaign, said: "We recognise that NICE showed flexibility in its reassessment of the drug by using its end of life criteria and that the current boundaries that control NICE's decision-making process meant that they had no option but to reject the treatment at the price offered. While there is a broader question about the existing process NICE has to work to, we believe that given the current context, much more could also be done by Roche to ensure the drug is priced at a level that ensures its availability.
"In the meantime, we welcome that Kadcyla is available in England via the Cancer Drugs Fund. However, the Fund is only a short-term solution and should not be used as a way to bypass NICE approval, or it will become unsustainable."
Last month, the Irish equivalent of NICE – The National Centre for Pharmacoeconomics (NCPE) ruled that Kadcyla is not cost-effective for use at the price submitted by Roche.
Analysts estimate that Kadcyla could generate annual peak sales of $2 billion to $5 billion for Roche.