Congratulations to the organisations that were shortlisted for the 2017 NICE shared learning awards.
We received 66 entries from organisations across the NHS, local authorities, social care, and the voluntary and private sectors. The standard was extremely high.
The top 4 finalists for the 2017 awards are:
The finalists presented their work at this year's NICE Conference where attending delegates voted for the winner.
2017 Shared Learning Award winner:
ASSIST Early Hospital Discharge Scheme - reducing bed blocking and improving the transition from hospital to home
In Mansfield and Ashfield integrated working between clinical practitioners, social workers and housing teams has unblocked thousands of beds and saved the NHS £1.4m last year. The multi-disciplinary team works with adults at the point of admission to free up staff time in A&E by signposting people with social needs. They also work together on wards of the hospital to identify and work with patients who are fit to go home but may need assistance to do so.
If one were to scale up this work it would be massive across the UK. Savings of this magnitude would go a long way towards funding 7-day secondary care

Dr Mark Holland, President to the Society for Acute Medicine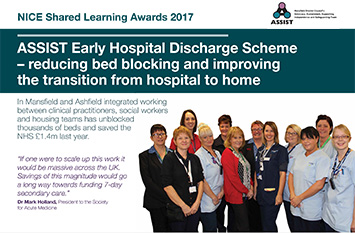 Download the full poster (PDF)
Contact: Christine Fisher
Housing Operations and Safeguarding Manager
Mansfield District Council
Email: cfisher@mansfield.gov.uk
Telephone: 01623 463711
Runners up
OASIS Group: improving quality of life in patients with lower limb osteoarthritis
Staffordshire and Stoke on Trent Partnership NHS Trust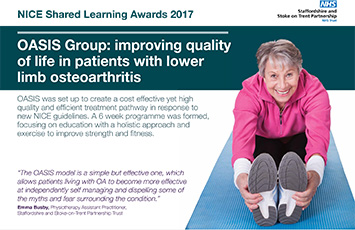 Blackburn with Darwen's integrated Wellbeing Service: making what we have work better
Blackburn with Darwen Borough Council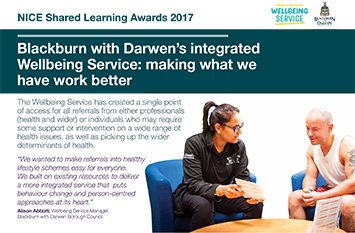 Management of hypertension in pregnancy
Guy's and St Thomas' NHS Foundation Trust
Highly commended entries from 2017
Download the posters for 2017's highly commended entries