Congratulations to the organisations that were shortlisted for the 2019 NICE shared learning award.
We received 68 entries from organisations across the NHS, local authorities, social care, and the voluntary and private sectors. The standard was extremely high. The finalists will present their work on the eve of this year's NICE Conference in Manchester and attending delegates will vote for the winner. Posters of the 20 shortlisted case studies will be presented at the award evening and at the conference.
2018 award winner:
Reducing incidence of Urinary Tract Infections by promoting hydration in care homes
A multi-disciplinary quality improvement project to reduce the incidence of Urinary Tract Infections (UTIs) or UTI-related hospital admissions by promoting hydration and optimising UTI management in East Berkshire care homes.
Keeping it simple means it's not only easy to implement, but also easy to sustain.


Sundus Jawad, Prescribing and Care Homes Support pharmacist, East Berkshire CCG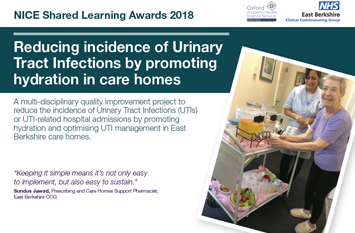 Download the full poster (PDF)
Contact: Sundus Jawad
Prescribing and care homes support pharmacist
East Berkshire Clinical Commissioning Group (CCG)
Email: sundus.jawad@nhs.net
Runners up
A faecal calprotectin care pathway to support diagnosing inflammatory bowel diseases in primary care
Yorkshire and Humber AHSN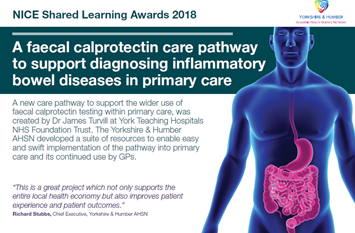 The Food First team: tackling malnutrition in care homes using a sustainable, non-medicalised approachr
Bedfordshire Community Health Services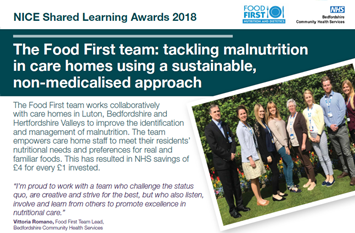 Download the posters for 2018's highly commended entries