A stage-by-stage outline of the process we use to develop interventional procedures guidance.
Understand the key stages in the development process.
See how long it takes to develop our guidance.
In-depth information on the development process in the process guides.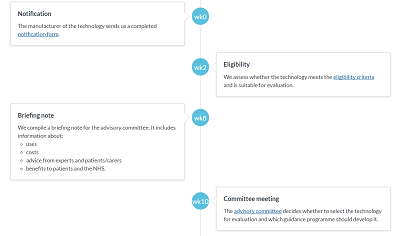 ---
Who makes decisions
Find out:
who's on the committee
details of past meetings
forthcoming meetings
how to attend a committee meeting.
External Assessment Centres
We may decide to refer a procedure to an External Assessment Centre for a systematic review. This might happen if:
the evidence base is too large to prepare in the format of a standard overview
the procedure could cause serious adverse events and the evidence needs a complex statistical analysis to enable the IPAC to make a decision
the procedure has more than 1 indication or involves more than 1 technique.