Content under review
We're updating this page following the publication of our new methods, processes and topic selection manuals. Our previous manuals still apply to evaluations that started before 1 February 2022. The new manuals apply to evaluations that began after this date.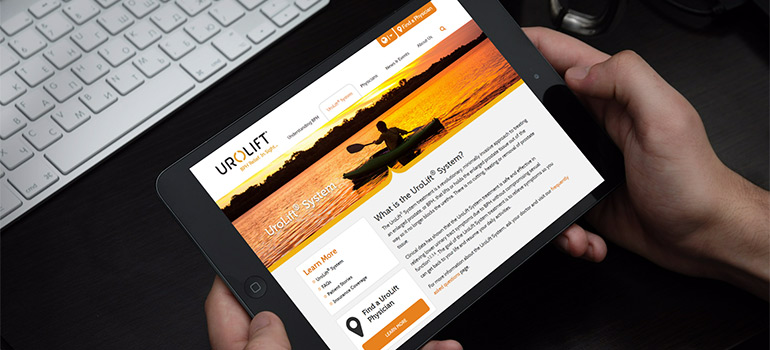 Justin Hall, Vice President and General Manager at NeoTract, the company behind UroLift, shares his product's journey through our medical technologies evaluation programme (MTEP).
"On the whole, it is a great process....the balance of objectivity, together with the openness and transparency. I'd really recommend it."

Justin Hall
Initial support
"NICE published interventional procedures guidance on urethral lift implants in January 2014" begins Justin. "Our product UroLift is one of the technologies you can use when performing this procedure. It became evident during guidance production that there was a lot of clinical and patient support for UroLift."
Justin was contacted by MTEP's Associate Director, Mark Campbell. NICE interventional procedures guidance considers the safety and efficacy of a procedure. But, unlike our medical technologies guidance, doesn't assess the cost or resource consequences. So, with a view to taking UroLift through medical technologies guidance, Mark encouraged NeoTract to look at their economic data and make sure it was robust.
Justin and his team then came into NICE for an initial meeting. "Our discussions were really productive," reveals Justin. "The team was open and transparent. I was impressed. This encouraged us to move forward with the process and notify the product to NICE."
Guidance production gets the go-ahead
Our medical technologies advisory committee considered NeoTract's submission in October 2014 and gave the go ahead for guidance production. "We were pleased when we got the news," says Justin. "Not everyone gets to go through the process. But we knew we had some great data behind the product."
NeoTract's next task was to complete their submission template. "We were in a good place because we had done our studies," Justin acknowledges. "This put us in a strong position compared to some other medtech start-ups. Our product had been 10 years in the making and was now on its fourth design. We'd received our CE mark in August 2012. So, by the time of our submission, the UroLift system had been available in the UK for more than a year on a clinical trial basis. These days, there's no point coming to market without good quality randomised control data."
The technology
The UroLift system is used to do a procedure called a prostatic urethral lift. In people with benign prostatic hyperplasia, the prostate becomes enlarged. It can then push against the urethra, making it difficult for a man to pass urine. The UroLift system uses adjustable, permanent implants to hold the enlarged prostate away from the urethra. This means it isn't blocked.
UroLift avoids the need to cut or remove the extra prostate tissue. These are the methods commonly used to treat a urine blockage caused by an enlarged prostate. It avoids risk to sexual function, and a reduced length of hospital stay because patients treated with UroLift can be in and out in less than a day.
Draft recommendations and consultation
We published our draft guidance in May 2015, recommending the UroLift system as a day case. Despite the positive draft recommendation, Justin did have some concerns about the consultation document. "The economic analysis compared the cost of using our product with the cost of the standard surgical procedure (transurethral resection of the prostate or TURP). But this records the costs of TURP without any complications. At that stage, we didn't have robust data on the complications and the additional costs incurred. That was frustrating for us."
Despite these concerns, Justin found the consultation process worthwhile. "The consultation generated some fantastic feedback," he enthuses. "I was particularly pleased that patients came forward to share their views and that these were noted by the [MTAC] committee. I thought the committee's responses to the consultation comments were balanced and fair too."
It's a yes
Our final guidance published in September 2015.
"Publication of the guidance was a watershed moment for us," Justin acknowledges. "That was the moment when the NHS started to sit up and listen. There are hospitals out there that hold MTEP guidance in extremely high regard. Our product went from being in 4 hospitals to 15 within 6 months of guidance publication. That was incredible."
Justin feels that our positive recommendation prompted the rest of the medtech industry to recognise what can be achieved. "I think there's a perception within the sector that it's difficult to get your product through NICE," he explains. "But I would recommend it. If your evidence is good, you should apply."
Justin recommends the process to other companies "
If your evidence is good, you should apply."
Into practice
Justin has been particularly pleased with the support he's received from our adoption and impact (A&I) team. The team focuses on the practical aspects of technology adoption.
The A&I team worked with NHS organisations using the UroLift system. This shared learning came together in a useful resource that was made available on our website to support adoption by other trusts.
"The team worked with hospitals who had adopted the technology," Justin says. "They were very proactive and working with them has been an exceptional experience. I can't recommend them highly enough.
Justin is complementary of his experience. "On the whole, it is a great process," he concludes. "There's no doubt that NICE is a rigid body. You've got to do your homework and get all your evidence in a row. If you don't do that, NICE won't even consider you and that's what I love about it: the balance of objectivity, together with the openness and transparency. I'd really recommend it."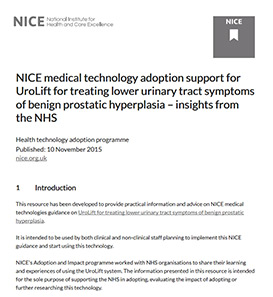 We developed an adoption resource to help NHS organisations use the technology.