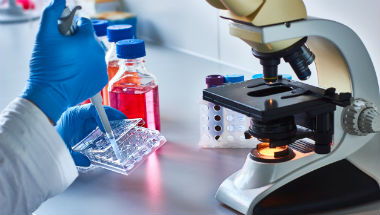 Additional evidence collection will be needed to assess histology-independent cancer drugs - a new kind of cancer treatment - a paper published and co-authored by NICE staff has said.
The paper, published in the British Medical Journal, looks at how histology-independent cancer drugs might be appraised by organisations such as NICE.
Reliable evidence is needed to inform NICE recommendations and the paper explores how histology-independent cancer drugs present a challenge for its technology appraisal process.
Histology-independent cancer drugs are developed in a new way. Cancer drugs are usually tested, and then appraised by NICE, for one type of cancer - for example advanced lung cancer. But tumours that occur in different parts of the body can have the same genetic characteristics. Therefore, histology-independent cancer drugs are tested for lots of different types of tumours at the same time, as long as the tumour has the genetic mutation targeted by the drug.
However, these mutations are often rare, so the clinical evidence on the effectiveness of histology-independent cancer drugs in treating these tumours is based on immature data and on studies with extremely small sample sizes. This will make it very challenging to assess whether the drug will provide value for money to health systems such as the NHS.
It is likely that additional data collection, for example through the Cancer Drugs Fund, will be needed.
These new types of cancer drugs could possibly offer health benefits to patients, including for some rare types of cancer, where there are limited treatment options at the moment.
The paper also explains how services like NICE Scientific Advice allow drug manufacturers to seek advice on how to best to generate the evidence that NICE needs, and that manufacturers of histology-independent cancer drugs might want to consider requesting scientific advice.
NICE is doing more work to identify the best way to appraise histology-independent cancer drugs. A research project, funded by the National Institute for Health Research (NIHR), will provide recommendations on the methods for the appraisal of these types of drugs. The results of this project will be considered as part of NICE's methods review.