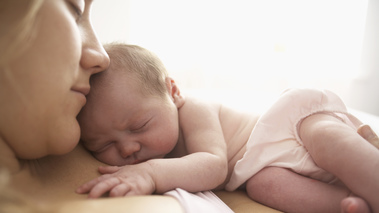 Between 10 and 20 per cent of women develop a mental illness during pregnancy or within the first year after having a baby.
Depression and anxiety are the most common mental health problems during pregnancy, with around 12 per cent of women experiencing depression and 13 per cent experiencing anxiety at some point. Depression and anxiety also affect up to 20 per cent of women in the first year after childbirth.
In almost half of the UK, pregnant women and new mothers do not have access to specialist perinatal mental health services, potentially leaving them and their babies at risk.
Research from the National Childbirth Trust (NCT) found that just 3 per cent of Clinical Commissioning Groups (CCGs) in England have a strategy for commissioning perinatal mental health services and a large majority have no plans to develop one.
An independent report commissioned by the Maternal Mental Health Alliance highlighted that perinatal depression, anxiety and psychosis carry a total long-term cost to society of about £8.1 billion for each one-year cohort of births in the UK.
To help address the gaps in care, this updated guideline makes recommendations for the recognition, assessment, care and treatment of mental health problems in women during pregnancy and up to 1 year after childbirth, and in women who are planning a pregnancy.
Since the original guideline was published in 2007, more information has emerged on using drugs to treat mental health problems during pregnancy and on stopping medication. More is now known about detecting mental health problems in mothers and pregnant women.
The updated guidance recommends discussing with all women of childbearing potential who have a new, existing or past mental health problem, the use of contraception and any plans for a pregnancy.
Health professionals should discuss how pregnancy and childbirth might affect a mental health problem, including the risk of relapse, as well as how a mental health problem and its treatment might affect the woman, the fetus and baby, and parenting.
Benefits and harms of treatment
Women with a history of mental health problems are at risk of relapse when they become pregnant, especially if they stop taking their medication. Drugs often have an important role in treating antenatal and postnatal mental health problems, but they are not always suitable.
It is critically important that a woman is able to make an informed decision about treatment and she is helped to weigh up the risks and benefits of stopping, starting or changing any treatment she is offered or currently receiving.
Mental health professionals should discuss the benefits and harms of treatment in pregnancy and the postnatal period.
This should include discussions around:
the risks or harms to the woman and the fetus or baby associated with each treatment option
the need for prompt treatment because of the potential effect of an untreated mental health problem on the fetus or baby
the risk or harms to the woman and the fetus or baby associated with stopping or changing a treatment
the uncertainty about the benefits, risks and harms of treatments for mental health problems in pregnancy and the postnatal period
the likely benefits of each treatment, taking into account the severity of the mental health problem.
The updated guidance offers advice on starting, using and stopping treatment, as well as the use of tricyclic antidepressants (TCA), selective serotonin reuptake inhibitors (SSRI) or (serotonin-) noradrenaline reuptake inhibitors [(S)NRI].
It also states that women and their partners, who have had a traumatic experience such as a very difficult birth, should be offered the chance to see a photograph of the baby, have mementos of the baby, see the baby, or hold the baby.
Professor Mark Baker, NICE Centre for Clinical Practice director, said: "During pregnancy and the postnatal period, women may also experience other mental health problems. Giving women the right treatment at the right time can have a profound effect – not just for the mother, but her family too. The effect of getting this right can last for years.
"The guidance makes a number of new and updated recommendations, covering not only treatments, but also in providing women who are newly diagnosed or with a history of mental health problems with the information and support they need before they become pregnant."
Professor Louise Howard, Professor in Women's Mental Health at King's College London and chair of the group that developed the guideline, said: "This guideline aims to highlight the full range of mental health problems that can occur during pregnancy and after childbirth, and ensure they are identified and treated promptly.
"These disorders are common but treatable and we hope that this guideline will help women get comprehensive holistic assessment and treatment quickly so that pregnancy, and the period after childbirth, are times of optimal mental and physical health".