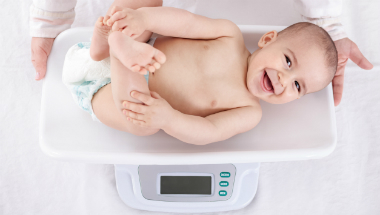 The NICE guideline aims to improve diagnosis, assessment and monitoring of children with faltering growth and to help GPs and health visitors support parents and carers to develop a management plan together.
Professor Gillian Leng, deputy chief executive and director of health and social care at NICE, said: "Having a child with faltering growth can be distressing for parents and carers. However, simple things such as encouraging relaxed and enjoyable feeding and mealtimes, eating together as a family or even allowing young children to be 'messy' with their food can help encourage them to eat.
"This guideline should also help healthcare professionals identify more complex cases of faltering growth for referral to specialist services. This should give all infants and children with faltering growth the best chance of reaching a healthy weight."
GPs and health visitors use growth charts – called centile growth charts - to see how infants and children are growing compared with healthy infants or children of the same age and sex. A child's weight, length or height and head circumference can be plotted on these charts to show growth over time.
The NICE guideline suggests faltering growth may be indicated by: a fall across 1 or more weight centile spaces if birth weight is below the 9th centile, a fall across 2 or more weight centile spaces if birthweight was between the 9th and 91st centiles, a fall across 3 or more weight centile spaces if birthweight was above the 91st centile or when current weight is below the 2nd centile for age whatever the birthweight.
According to data collected in the National Child Measurement Programme, in 2015, 1% of children aged 4-5 were underweight.
New born infants normally lose weight in the early days of life. However persisting or large weight losses can be a sign of possible problems with feeding and weaning. In older children, faltering growth can occur when a child does not eat enough to get the energy needed for growth and development.