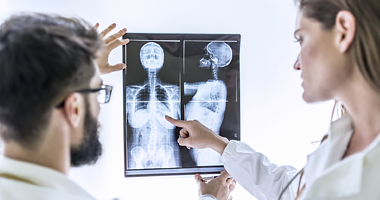 The guidance recommends palbociclib (also called Ibrance and made by Pfizer) given with fulvestrant for people with a type of advanced breast cancer called hormone receptor-positive, human epidermal growth factor receptor 2 (HER2)-negative breast cancer who have already had endocrine therapy.
Palbociclib joins 2 other NICE-approved drugs – ribociclib and abemaciclib – at this stage of treatment. Taken once-daily in pill form, palbociclib is a type of drug called a cyclin-dependent kinase 4 and 6 (CDK4/6) inhibitor. These work by inhibiting proteins in cancer cells, thereby preventing the cells from dividing and growing.
The treatment could be an option for up to 3,300 women who have already had endocrine treatment.
The committee heard from patients that they value the drug's potential for increasing the time they remain in good health, and want to delay chemotherapy – which would be the next stage of treatment – for as long as possible. They also heard that the different side effects of each of the CDK4/6 inhibitors available gives people a range of treatment options.
Clinical trial evidence suggests that compared with fulvestrant alone, palbociclib with fulvestrant increases the length of time before the disease progresses. However, it is not known whether palbociclib increases the length of time people live, because the final trial results are not available yet.
The guidance therefore recommends it for use on the CDF in order to allow more evidence to be collected to address the uncertainties around overall survival and cost-effectiveness.
Meindert Boysen, director of the NICE Centre for Health Technology Evaluation, said: "The committee heard that treatments that can delay the need for chemotherapy, improve quality of life and extend how long people live in better health are important and would be welcomed. Palbociclib provides people with an alternative where NICE has already recommended two other drugs.
"We are pleased therefore that the company has agreed a managed access arrangement that will allow palbociclib to be made available within the Cancer Drugs Fund as a further treatment option for people with this type of breast cancer."
Minister for Innovation Nicola Blackwood said: "We are determined to find ways to save as many lives as possible, and to do our best to stop cancer from taking people from their family and friends far too soon.
"This latest development is another great example of the work the health community and research is doing to improve patients access to cancer treatments.
"This Government will always help the NHS reach its full potential and innovative drugs like this is proof that the UK continues to be the world-leading destination for revolutionary healthcare."
Blake Dark, NHS Commercial Medicines Director, said: "This targeted treatment has the potential to make a real difference to the quality of life for people with breast cancer, not only extending survival, but significantly delaying the need for chemotherapy.
Palbociclib with fulvestrant is already available to NHS patients in England following publication of NICE's draft recommendation in November.