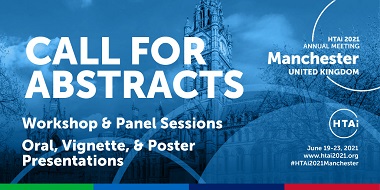 NICE, and co-hosts the All Wales Therapeutics and Toxicology Centre (AWTTC) and Healthcare Improvement Scotland (HIS) recently announced that the theme for the HTAi 2021 Annual Meeting is 'Innovation through health technology assessment (HTA)'. HTAi is an international society for the promotion of HTA and further the advancement of HTA through networking and collaboration. NICE is delighted to co-host the annual meeting which will bring together the global HTA community to debate and discuss the challenges of embedding HTA in health systems. As the planning for the scientific programme progresses, HTAi have now released the three plenary themes:
evidence for HTA: innovative methods for challenging times
patients at the heart of innovation
innovating HTA to support novel interventions
The call for abstract submissions is now open and HTAi encourages submissions based around the three themes.
Meindert Boysen, deputy chief executive and director of the Centre for Health Technology Evaluation at NICE, and co-chair of the HTAi 2021 Local Organising Committee, said: "The plenary themes reflect the changing times we are living in. Worldwide, approaches to health technology assessment (HTA) are being challenged as we see scientific advancement and novel interventions rapidly emerge, and the response to COVID-19 forces us to think very hard about new ways of working. As a global community we need to discuss how to adapt HTA to ensure it continues to inform evidence-based decision-making processes, supporting early patient access to technology innovation.
"Bringing the HTAi Annual Meeting to the UK is a fantastic opportunity for us at NICE and our partner organisations (HIS and AWTTC), not only to showcase the UK's expertise in HTA, but also to collaborate with international colleagues to develop novel approaches, and support HTA in emerging regions. We hope to receive abstract submissions from far and wide to broaden the scope for discussion around the role of HTA in health innovation."
The HTAi 2021 Annual Meeting will take place from 19-23 June in Manchester. HTAi is planning for delegates to participate both in person and virtually to share information and best practices, from cutting-edge technologies to advancing healthcare through system development. For more information about how you can participate by submitting an abstract visit the HTAi 2021 Annual Meeting website.
Over the coming months there will be updates on the scientific programme and how to register to attend the meeting. For more information, please visit the HTAi 2021 Annual Meeting website.