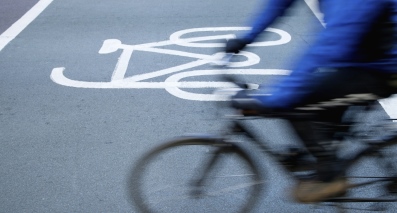 Researchers, publishing in the journal Preventive Medicine, found that people who walked or cycled to work benefitted from improved mental wellbeing in comparison with those who travelled by car.
Data from a series of long-running studies showed that active travel improved mental wellbeing in a number of areas such as concentration, the ability to make decisions and enjoy normal daily activities, and that it reduced the feeling of being constantly under strain.
This is in addition to the known physical health benefits associated with walking and cycling, such as reduced risk of coronary heart disease, cancer, stroke, and type 2 diabetes.
Carried out at the University of East Anglia's (UEA) Norwich Medical School and the Centre for Health Economic at the University of York, the research included data on around 18,000 commuters from across the UK over a period of 18 years.
NICE guidance on walking and cycling recognises the benefit of active travel on physical and mental health, and aims to make it easier for people to use these methods as regular forms of transport.
The guidance is aimed at schools, workplaces, local authorities and the NHS to encourage them to promote walking and cycling.
NICE recommends taking a coordinated action to identify and address the barriers that may discourage people from walking and cycling.
Among the measures that can be taken are implementing town-wide programmes to promote cycling for transport and recreational purposes.
Organisations should ensure walking routes are integrated with accessible public transport links to support longer journeys.
Furthermore, school travel plans should be developed and implemented to encourage children to walk or cycle all or part of the way to school.
In addition, employers should develop strategies in consultation with staff to promote walking and cycling in and around the workplace.
Professor Mike Kelly, Director of the Centre for Public Health Excellence at NICE, said: "We know that increasing levels of physical activity can reduce the risk of a range of health of problems. But this new study provides additional evidence on the impact of physical activity on mental wellbeing."
He added: "NICE guidance on walking and cycling aims to encourage and enable people to walk and cycle more frequently, so that they become regular parts of people lives.
"Our guidance aims to make it easier for people to walk and cycle more regularly, and addresses any safety fears that people may have over these forms of transport."
Adam Martin, lead researcher from UEA's Norwich Medical School, commented: "Our study shows that the longer people spend commuting in cars, the worse their psychological wellbeing. And correspondingly, people feel better when they have a longer walk to work."
Last month, a separate study from University College London and the London School of Hygiene and Tropical Medicine supported the health benefits of active travel.
The research found that people who travelled actively or used public transport had significantly lower BMI scores and percentages of body fat than those who used private transport.