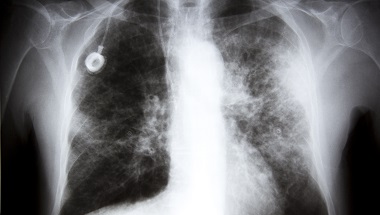 New draft guidance recommends osimertinib (also called Tagrisso and made by AstraZeneca) at two different places in the treatment pathway for locally advanced or metastatic epidermal growth factor receptor (EGFR)-positive NSCLC.
Around 1800 people in England have advanced EGFR-positive NSCLC, and the majority are set to benefit from the new recommendations.
The positive recommendation for untreated advanced EGFR-positive NSCLC follows a rapid review of NICE's previous guidance, which did not recommend the treatment. The company has since offered an updated commercial arrangement meaning it is now a cost-effective use of NHS resources.
Additionally, NICE has recommended osimertinib for routine use on the NHS as a second-line treatment for patients with locally advanced or metastatic EGFR-positive NSCLC with the T790M mutation.
The treatment was previously available through the Cancer Drugs Fund for this group of patients, but has now been approved for routine commissioning on the NHS.
Meindert Boysen, deputy chief executive and director of the Centre for Health Technology Evaluation at NICE, said: "We are pleased to be able to recommend osimertinib as a first- and second-line treatment option to patients with a relatively rare form of lung cancer.
"Osimertinib has shown the ability to improve the lives of patients with this devastating disease, and is likely to extend their time with loved ones. I know this news will be welcomed by patients and their families and carers."
Osimertinib has been available to patients with untreated EGFR-positive NSCLC throughout the COVID-19 pandemic as a part of the interim NHS England treatment regimen to allow flexibility for cancer patients. Patients with the T790M mutation have also had access to osimertinib as a second-line treatment via the Cancer Drugs Fund.
With the new draft guidance, new patients will now be eligible to receive osimertinib routinely.
John Stewart, NHS Director of Specialised Commissioning, said: "Securing cutting-edge treatments through innovative drug deals is just one way the NHS Long Term Plan is transforming cancer care for patients across the country.
"Osimertinib is a significant new treatment for up to 1,800 people with lung cancer - allowing them to spend more precious time with their loved ones without suffering from distressing side-effects - and is why the NHS has worked closely with NICE and AstraZeneca to reach a deal that not only benefits patients but is also a fair price for taxpayers."
EGFR-positive NSCLC is a relatively rare form of lung cancer accounting for around 10% of lung cancer cases. Currently, the first line of treatment for locally advanced stages of the disease is a daily oral dose of afatinib, erlotinib, gefitinib or dacomitinib, which have all been recommended by NICE.
Clinical trial evidence shows that treatment with osimertinib stalled cancer-growth longer than treatment with erlotinib or gefitinib. However, there is no direct evidence comparing the treatment with afatinib, which may be more effective than erlotinib or gefitinib.
NICE expects to publish final guidance on the two recommendations in October 2020.