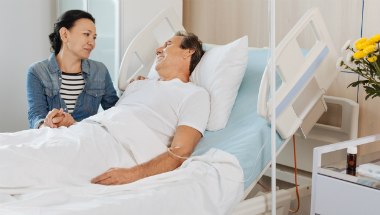 Before, pembrolizumab had only been widely available to adults with advanced lung cancer if their disease had progressed after another treatment. Patients with untreated lung cancer had to apply for special funding via the Cancer Drugs Fund (CDF).
This draft recommendation means more people will have an automatic right to pembrolizumab on the NHS 30 days after NICE publishes final guidance later in June.
Meindert Boysen, director of the NICE centre for health technology evaluation, said: "Recent changes to the CDF mean we have more flexibility in our process so we can grant early access to promising drugs whilst more data is gathered on their long-term benefits.
"Pembrolizumab is one of the first new cancer drugs to benefit from this flexible approach and it can now be used routinely in the NHS. In the past 20 years there have been few improvements for people with this type of lung cancer so we are pleased to recommend routine access to pembrolizumab on the NHS."
NICE originally looked at pembrolizumab in June 2017 and said although it appeared promising, more data was needed to not establish how much longer patients lived for when taking it. NICE recommended that patients get early access to the drug until upcoming trial results were released.
Simon Stevens, NHS England chief executive said: "This is another milestone in our rapidly improving modern NHS cancer care. This win-win deal for patients and taxpayers brings genuine innovation and proven survival gains to cancer patients across England."
The drug is recommended as an option for adults with untreated metastatic lung cancer who test positive for a protein marker known as PD-L1. Evidence from a new trial showed pembrolizumab extended life by 16 months more than standard chemotherapy for these patients.
Around 1,800 patients a year will be eligible for the drug. It costs on average, £84,000 for a course of treatment but Merck, Sharp & Dohme who market the drug have offered the NHS a confidential discounted price.
Louise Houson, UK Managing Director, MSD said: "Today's news on funding for pembrolizumab as a first-line lung cancer treatment in relevant patients is a tribute to the partnership we have all achieved and another great step forward."