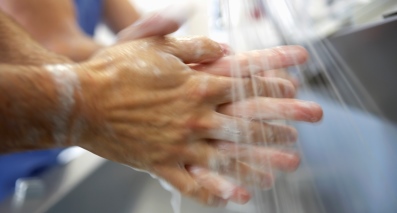 Around 300,000 people get an infection while being cared for within the NHS in England each year. One in 16 people being treated on the NHS picks up an infection. As a result, more NHS resources are consumed and the affected patients are at increased risk.
In 2007, MRSA - or methicillin-resistant Staphylococcus aureus - infections and C difficile infections were recorded as the underlying cause of, or a contributory factor in,approximately 9000 deaths in hospital and primary care in England.
This latest NICE quality standard contains six statements designed to reduce infection rates, including a statement recommending that patients should be looked after by healthcare workers who always clean their hands thoroughly, both immediately before and immediately after contact or care.
The quality standard also aims to tackle the growing threat of antibiotic resistance by recommending that antibiotics be prescribed only in accordance with local antibiotic formularies - as part of a system to stem resistance of infections to antibiotics.
Antibiotics should not be offered to patients for self-limiting mild infections such as colds and most coughs, sinusitis, earache and sore throats.
Healthcare workers should minimise the risk of infection to people who need a urinary catheter or a vascular access device by following procedures to make sure they are inserted, looked after and removed correctly and safely.
These procedures include cleaning hands, assessing the need for a catheter, using a lubricant when inserting a catheter, using sterile procedures when inserting a vascular access device, emptying the catheter drainage bag when necessary, and removing catheters and vascular access devices as soon as they are no longer needed.
Professor Gillian Leng, Deputy Chief Executive and Director of Health and Social Care at NICE said: "It is unacceptable that infection rates are still so high within the NHS. Infections are a costly and avoidable burden. They hinder a patient's recovery, can make underlying conditions worse, and reduce quality of life.
"Although there have been major improvements within the NHS in infection control, particularly in relation to C difficile and MRSA bloodstream infections in the last few years, healthcare associated infections are still a very real threat to patients, their families and carers and staff. This quality standard gives primary, community and secondary care services the most up-to-date advice on the best ways to minimise the risks of infections."
Carol Pellowe, Senior lecturer at Guy's & St Thomas' NHS Foundation Trust and a member of the committee which developed the standards, said: "This quality standard will promote best practice in infection prevention and control and by providing key areas for action, encourage organisations to sustain their efforts in ensuring patient safety."
Gavin Maxwell, a lay member of the committee which developed the standards, added: "This quality standard will help to combat and control the spread of infection, both within health related facilities and across the population at large. As a lay member of the advisory committee, I particularly welcome and support the quality statement relating to responsible prescribing of antibiotics. It will bring substantial benefits."