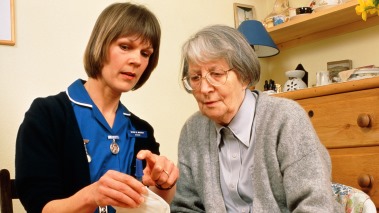 The Trust improved treatment of women with the condition through greater compliance with NICE guidance, simplifying its pathway of care, and by introducing a multidisciplinary team.
UI is a common symptom that can affect women of all ages. While rarely life-threatening, incontinence can seriously influence the physical, psychological and social being of those affected.
Following an audit of care, the Trust found that the treatment it provided was irregular and inconsistent. In particular, it was not following advice from NICE's quality standard on lifestyle changes, and it did not have a multidisciplinary team
A secondary audit to assess compliance on referral to secondary care found that women who had not received conservative measures were being sent back to primary care. This added to waiting times, inconveniencing both patients and doctors.
Simpler referral pathway
Compliance with NICE guidance was hampered by the pressure to speed up the time in which patients are seen. Furthermore, the referral pathway was overly complex and difficult to follow.
Consequently the Trust developed an 'Easy Step Guide' for referral to simplify the pathway. It arranged teaching sessions with GPs every 6 months, and it conducted a rolling annual audit on compliance with NICE guidance.
A multidisciplinary team was also set up to ensure review before surgery or invasive treatment, in accordance with NICE advice.
Greater compliance leads to less unnecessary testing
After 6 months, the Trust carried another audit and found that compliance with NICE guidance had risen to 99 per cent.
This led to less unnecessary urodynamic testing before conservative management, which in turn reduced the likelihood of patients picking up urinary tract infections.
The reduction in testing also means that women were less likely to experience the physical and emotional stress that comes with such consultations.
Key learning points include keeping things simple – following an easy pathway makes it easier for referrers and for patients, increasing the likelihood of success. Regular education and training was also necessary to prevent returning to old routines.
Presenting the award to project leader Farah Lone, NICE Chair Professor David Haslam said: "Congratulations to Royal Cornwall Hospitals Trust for its truly remarkable work. All three finalists were absolutely fantastic, and they all truly deserved to win."
Dorset County Hospital NHS Foundation Trust was commended for its work in improving care through complaints.
Guy's and St Thomas' Hospital was equally recognised for its work in caring for victims of domestic abuse.