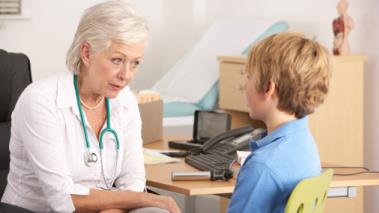 Idiopathic constipation – a form of the condition with no known cause – is prevalent in around 1 in 100 children aged 11 to 18. Children and young people with Down's syndrome or autism are particularly prone to idiopathic constipation, as are those in local authority care.
Symptoms of constipation become chronic in more than a third of children and young people, causing it to be a common reason for referral to secondary care.
The majority of admissions to secondary care occur via A&E, with inpatient data from hospital statistics for England in 2012/13 showing that 79 per cent of children who end up in hospital due to constipation are admitted through emergency admission.
NICE has produced a quality standard on children and young people with constipation, which aims to reduce the high rate of A&E admissions due to constipation, and reduce the incidence of recurrent constipation among children and young people.
The quality standard includes 6 statements, which together describe high quality care for constipation in children and young people.
Early diagnosis and treatment are important to prevent constipation from turning chronic. If it is not treated, an acute episode can lead to anal fissure and constipation can turn chronic.
Consequently, the first statement says that children and young people with constipation should receive a full assessment before a diagnosis of idiopathic constipation is made.
The quality standard states that once constipation in children and young people has been recognised, it is important to ensure that the underlying cause of constipation and 'red flag' symptoms are excluded. A diagnosis of idiopathic constipation can only be made through a full assessment, including a detailed history-taking and a physical examination by a healthcare professional.
The second statement calls for children and young people with idiopathic constipation to receive oral macrogols as first-line treatment.
NICE says that laxatives are an effective treatment for constipation, with oral macrogols being the first-line laxative of choice unless otherwise indicated. Furthermore, oral macrogols are easily administered at home and in the community, and may avoid the need for invasive hospital treatment.
Receiving clear, written information about how to take medication and what to expect when taking laxatives will enable self-management and adherence to therapy.
As a result, the quality standard states that children and young people with idiopathic constipation starting laxative treatment – or their parents or carers – should receive written information about laxatives.
Jenny Perez, Chief Executive of UK childhood continence charity Every Child has the right to go, said: "We're delighted that a quality standard is now in place for childhood constipation. This will help to improve the quality of care provided for one of the most common health conditions in children and reduce related emergency hospital admissions.
"This standard will play a key role in improving early diagnosis for childhood constipation, ensuring appropriate treatment is given by health professionals and supporting the development of effective, joined-up services."
Professor Gillian Leng, Deputy Chief Executive and Director of Health and Social Care at NICE said: "There were over 13,000 consultant appointments for children and young people with constipation in the last year alone, and the number with the condition could be even higher because families may be too embarrassed to seek advice."
She added: "More than a third of children and young people will end up with chronic, long-term symptoms, with many having to be referred on to secondary care. This new standard calls for thorough and regular assessment to ensure that children and young people with idiopathic constipation have the best level of care."