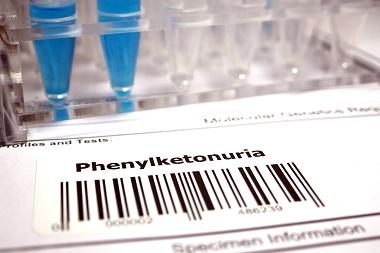 PKU is usually diagnosed in children and is a rare, inherited, chronic and life-long condition. It is caused by the lack of an enzyme which breaks down phenylalanine, a compound which occurs naturally in protein-rich foods such as milk, eggs and meat. Phenylalanine in high concentrations is toxic to the central nervous system. If the condition isn't managed phenylalanine accumulates in the blood and can cause irreversible brain damage in babies and children and affect brain function in adults.
Current management for PKU is a lifetime adherence to a severely protein-restricted diet which cuts out most natural proteins (such as meat, fish, eggs, cheese, pulses, seeds, flour, bread and pasta), together with dietary supplements. Sapropterin is offered alongside a protein-restricted diet. The aim of treatment with sapropterin is to reduce blood phenylalanine levels and relax the restrictions on the diet as much as possible.
The clinical trial evidence shows that sapropterin reduces blood phenylalanine levels in people with PKU but it is uncertain how well it works because there is only short-term clinical trial evidence.
The committee acknowledged that sapropterin could prevent long-term irreversible brain damage in children because childhood is most critical period for brain development. However, they were uncertain to what extent sapropterin reduces reliance on a protein-restricted diet.
There were limitations with the economic analyses presented, which made it difficult to estimate the cost effectiveness of sapropterin. However, when accounting for the benefits and cost of the treatment the committee concluded that sapropterin in children is likely to be within the range NICE considers an effective use of NHS resources.
Adults, whose neurological development is complete, are not susceptible to irreversible brain damage caused by uncontrolled phenylalanine levels in the same way as children. Adults also need a higher dose of sapropterin than children. These factors, taken together with uncertainties about the extent to which it reduces reliance on a protein-restricted diet, the absence of data on whether sapropterin might improve quality-of-life, and limitations of the cost effectiveness analyses presented meant that sapropterin in adults was not considered to be a cost-effective use of NHS resources.
The committee also acknowledged that PKU is a particular concern if poorly controlled before and during pregnancy because it can be harmful to the unborn child. However, a lack of evidence meant that the committee was unable to make a recommendation on the use of sapropterin for pregnant women and women of childbearing age. The committee would like to see further evidence in this population to reconsider its conclusion at its next meeting.
Meindert Boysen, deputy chief executive and director of the Centre for Health Technology Assessment at NICE, said: "Sapropterin allows patients to manage their condition more easily, reduces symptoms, and provides peace of mind about blood phenylalanine levels. Even though the evidence for a substantial reduction in the protein-restricted diet is lacking, when combined with concerns for long-term irreversible brain damage and impact on quality of life, it can be recommended as an option in children, alongside a protein-restricted diet.
"Because of the weight-based dosing, and without the effect assumed for children, there is very limited scope for the drug to be considered cost-effective in adults. One exception is its use to prevent harm to the unborn child in women with PKU who are pregnant or trying to conceive. We urge the company to work with us to try to find constructive solutions to the uncertainties highlighted in the draft guidance, particularly where it concerns this group."
There are currently around 2,250 people with PKU in England. The company estimates that approximately 75 children aged under 18 with PKU would be eligible for treatment with sapropterin out of a total eligible population of around 308 people.
The closing date for comments on the draft guidance is 16 March 2021. The committee will meet to consider the responses to the consultation on 7 April 2021.