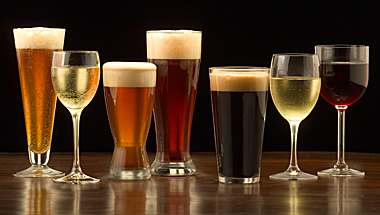 Almost 1.9 million harmful drinkers in England could be sent for scans for cirrhosis by their GPs to detect disease early so treatment and lifestyle changes are more effective.
The final quality standard advises GPs to send people for scans for cirrhosis if men are drinking more than 50 units per week or 22 pints and women are drinking more than 35 units per week or 3 ½ bottles of wine.
Access to the two recommended tests, transient elastography and acoustic radiation force impulse imaging is currently varied across England, whilst the first is available in at least 120 UK hospitals, the latter is a newer technology that is not as widespread.
Since draft, NICE has updated this standard to reflect that significant changes are needed to implement this guidance, such as a redesign of services or buying new equipment.
Dr Andrew Fowell, consultant hepatologist at Portsmouth Hospitals NHS Trust and specialist committee member, said: "Identifying people who are at risk of liver disease and offering them non-invasive testing to diagnose cirrhosis is key to ensuring they are given the treatment and support they need early enough to prevent serious complications."
"Ten years ago diagnosis of cirrhosis would often require a liver biopsy, but now with advances in non-invasive testing it is much easier for patients and health professionals to make a diagnosis."
Final guidance also calls for all those diagnosed with non-alcoholic fatty liver disease to be regularly tested for advanced liver fibrosis – so they can manage their condition and prevent it developing into cirrhosis.
Professor Gillian Leng, deputy chief executive of NICE, said: "Many people with liver disease do not show symptoms until it is too late.
"If it is tackled at an early stage, simple lifestyle changes or treatments can be enough for the liver to recover. Early diagnosis is vital, as is action to both prevent and halt the damage that drinking too much alcohol can do.
"This final quality standard makes a number of important suggestions to improve care for those with liver disease from offering advice to less invasive testing."
NICE is calling for all adults and young people with cirrhosis to go for ultrasound scans every 6 months for hepatocellular carcinoma, in a bid to improve earlier diagnosis.
The quality standard also recommends providing antibiotics through a drip to adults and young people with cirrhosis who are vomiting or passing blood in their stools.
Liver disease is the fifth largest cause of death in England and Wales. It is estimated over 4,000 people die from cirrhosis every year and 700 will need a transplant.