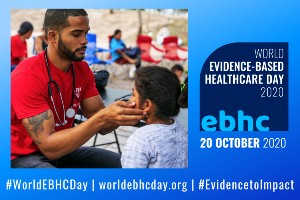 A virtual event featuring key players in the production of NICE's rapid COVID-19 guidelines and a special edition of the NICE Talks podcast are the highlights of NICE's contribution to the inaugural World Evidence-based Healthcare (EBHC) Day.
NICE and seven other global leaders in evidence-based healthcare are launching a worldwide initiative to create awareness of the need for better evidence to inform healthcare policy, practice and decision making.
The inaugural World Evidence-based Healthcare (EBHC) Day will be held on Tuesday 20 October 2020 and spotlights the global impact of EBHC on health research, policy, practice and patient outcomes.
In advance of the day itself, NICE is holding a virtual event - Relevant, timely and evidence based – exploring what it takes to deliver guidance to a health and care system dealing with COVID-19.
Registration is now open for those wishing to attend the event on Monday 19 October at 12.30pm for an hour. There will be an opportunity to question the panel.
Dr Paul Chrisp, director for the centre for guidelines at NICE, who will lead the virtual event, said: "I'm looking forward to discussing how NICE guidance was used to ensure the effective and safe treatment of patients at the height of the pandemic.
"NICE plays a vital role producing evidence-based guidelines and resources that help commissioners and frontline practitioners, patients and carers, make better informed decisions about health and social care policy and practice.
"Our virtual event will involve a discussion on the impact our rapid guidelines produced during COVID will have on the way we produce guidelines in the future."
EBHC is a worldwide movement with hundreds of organisations and tens of thousands of individuals working tirelessly towards improving the science and practice of EBHC for the same aim: to improve health outcomes.
A special edition of the NICE Talks podcast will also be released.
On the podcast, Dr Adriana Robayo from Colombia's Institute of Health Technology Assessment joins our host – NICE International's Pilar Pinilla-Dominguez – to discuss the challenges in adopting an evidence-based approach to improving health outcomes.
It will be available from Monday 19 October, NICE's Soundcloud page and available to download from wherever you get your podcasts.