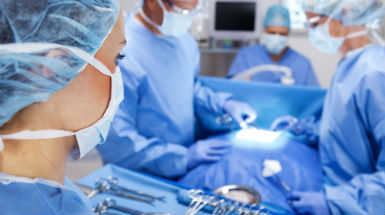 Publication of the guideline follows an extended period of stakeholder engagement and discussion during which NICE sought to ensure that the evidence-based conclusions of its advisory guideline committee about the use of a technique for repairing unruptured aneurysms called endovascular aneurysm repair (EVAR), can be implemented successfully within the NHS.
The draft guideline recommended that EVAR should not be used. This resulted in feedback from stakeholders that was critical of an approach that would potentially limit clinical judgement and patient choice in selecting the most appropriate intervention for some people.
Stakeholders also argued that it would not be possible to quickly put into practice recommendations that favoured open surgical repair over EVAR where currently the majority of repairs are done by EVAR.
Although the guideline committee made a number of changes in response to these criticisms, NICE remained concerned that the revised recommendations did not fully reflect the need for the NHS to move towards open surgery in a managed and sustainable way. NICE has therefore made some modifications to the advisory committee's recommendations.
The guideline now says that where open surgical repair can't be carried out – for example because of medical or anaesthetic risks – EVAR can be considered.
Paul Chrisp, director of the Centre for Guidelines at NICE, said: "We are confident that the majority of the stakeholder community will give a positive response to the guideline, now that the recommendations do not completely rule out EVAR.
"We know that some clinicians prefer EVAR but what we are trying to do is steer the system to shift practice towards open surgery, in line with the evidence."
AAAs develop when the wall of the aorta, the main artery in the body, weakens, causing it to bulge. AAAs are most frequent in men over 65. In this group, AAA rupture causes 3,000 deaths each year in England and Wales.
The guideline recommends all men aged 65 or over should be encouraged by their GPs to take part in the NHS AAA screening programme if they haven't already done so.
Women are not routinely offered screening because they have a much lower risk than men. The guideline recommends that women aged 70 or over being investigated for possible AAA should be considered for an ultrasound scan if they have any of a number of risk factors including having high cholesterol, high blood pressure or if they smoke or used to smoke.
The guideline says people who are found through ultrasound scan to have an abdominal aorta diameter of 5.5 cm or larger should be referred to a regional vascular service and seen within 2 weeks. People with an aorta diameter of between 3.5 and 5.4 cm should be seen within 12 weeks.
The guideline aims to increase awareness of AAA among non-specialists by highlighting the signs, symptoms and risk factors that should prompt consideration of a symptomatic or ruptured AAA and offering an immediate aortic ultrasound. By increasing the chance of ruptured AAAs being diagnosed earlier the guideline aims to improve the chances of appropriate treatment and survival.