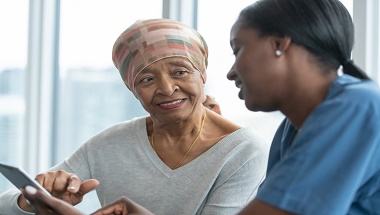 Neratinib (also called Nerlynx and marketed by Pierre Fabre) is recommended, under the terms of a commercial arrangement, for people with this type of breast cancer who are less than 1 year from completing trastuzumab (Herceptin)-based treatment following surgery (called adjuvant treatment).
Meindert Boysen, director of the Centre for Health Technology Evaluation at NICE, said: "Breast cancer remains the most common form of cancer in the UK, accounting for around 30% of all cancers in women. And although there have been advances in the treatment of early stage HER2-positive breast cancer, around a quarter of people treated with trastuzumab following surgery will have a recurrence of their cancer.
"We are therefore pleased to be able to recommend neratinib as a further treatment option for people with this type of breast cancer, based on the benefits it provides in extending the time before the disease gets worse and on its important potential to reduce the risk of the cancer returning."
Neratinib, which is taken as 6 x 40 mg tablets daily for 1 year, is recommended provided trastuzumab is the only HER2-directed adjuvant treatment people have had.
For people who have had treatment before surgery to reduce tumor size (neoadjuvant treatment), the draft guidance says they should still have signs of cancer in tissue samples (residual invasive disease in the breast or armpit, known medically as the axilla) following the neoadjuvant treatment to be eligible for treatment with neratinib.
The clinical trial evidence showed that people who had treatment with neratinib have less risk of disease recurrence than people who had treatment with a placebo. Despite there being no available data about how this might translate into increasing the overall length of time people live, the committee concluded that the cost-effectiveness estimates for neratinib made it an acceptable use of NHS resources.
Nearly 50,000 women and 400 men are diagnosed with breast cancer each year in the UK and around one in five tumours will be HER2-positive.
It is estimated that around 1600 people would be eligible for treatment with neratinib following adjuvant treatment with trastuzumab.
Consultees, including the company, healthcare professionals and members of the public are able to comment on the draft recommendations via the NICE website until 28 August. All comments received during this consultation will be considered by the committee at its meeting in September.