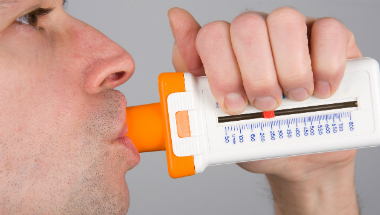 Mepolizumab is a new type of medicine that targets a specific cause of asthma for the first time.
NICE says that adults with severe symptoms should have access to mepolizumab. This includes adults who suffer many asthma attacks or those taking regular oral steroids.
Professor Carole Longson, director of the NICE centre for health technology evaluation said: "Around 100,000 adults in England and Wales have severe asthma that cannot be controlled with their regular medicines. Symptoms such as constant breathlessness can make it hard to carry out simple day-to-day activities.
"Asthma attacks can come without any warning so people often live in fear, afraid to go out. If they do suffer from an attack, it may lead to hospitalisation and in the worst cases death.
"Adults with severe asthma have had limited treatment options. Many end up taking oral corticosteroids for prolonged periods which can cause further complications such as diabetes, high blood pressure and mood swings."
Mepolizumab is the first biologic treatment to target immune cells called eosinophils. These cells are responsible for symptoms in thousands of asthma patients.
Mepolizumab stops the activity of a molecule called IL-5 which attracts asthma-causing eosinophils to airways and helps them survive.
NICE initially did not recommend mepolizumab because evidence the makers, GlaxoSmithKline (GSK), presented did not reflect how it would be used in the NHS.
GSK provided more information and reduced the price of the drug meaning it could be recommended as cost effective for the NHS.
Patients are given mepolizumab by injection every four weeks. It costs £840 per dose before the NHS discount is applied.
UPDATE SEPTEMBER 2017 - NICE has also recommended another drug called reslizumab or Cinqaero for this type of severe asthma. Reslizumab works in a similar way to mepolizumab. Teva UK who market reslizumab offered the NHS a confidential discounted price.