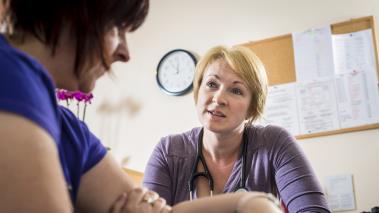 NICE will act as a sounding board as the local systems develop their new care models, and will advocate for the vanguards as necessary at a national level.
NICE will also help the vanguards use its guidance as they work to improve the quality of the care they are commissioning and providing.
Challenges to the NHS
The combination of an ageing population with increasingly complex health needs, together with limited resources means it needs to find new ways of working.
The NHS Five Year Forward View aims to address some of these issues by setting out ways that health service can change. Since then, seven national organisations that deliver and oversee health services have been choosuing a number of organisations to be vanguards, to lead on the development of new care models.
NICE vanguard sites
So far 37 vanguard sites have been chosen of which 4 will be sponsored by NICE. The sites sponsored by NICE will be:
Connecting Care - Wakefield District enhanced health in care homes vanguard
Sutton Homes of Care (enhanced health in care homes vanguard)
Whitstable Medical Practice (multispecialty community provider vanguard)
Mid Nottinghamshire Better Together (integrated primary and acute care system)
As a sponsor, NICE will provide the vanguards with support through its guidance and quality standards, and will issue customised support. It will also use the experience of the vanguards to inform its own products.
Integrated systems of care
Mid Nottinghamshire Better Together integrated primary and acute care system vanguard aims to deliver a whole integrated system of hospital, community, social and primary care. It aims to achieve this by moving from a hospital-based system of urgent care to a home-based one of proactive care.
Sutton Homes of Care health in care homes vanguard aims to create a holistic model of care. This means setting up multidisciplinary teams of medical, nursing, social care and voluntary sector professions to help deliver the care needs of residents.
The Whitstable Medical Practice multispecialty community provider vanguard builds upon ongoing work to integrate primary, community and acute care with the objective of providing care as close to home as possible and in the most appropriate setting.
Sir Andrew Dillon, Chief Executive of NICE:
"It is a privilege to be supporting these vanguards.
"Through our sponsorship role, we can help them develop their innovative approaches and learn from them as they put their new systems and relationships in place. We're also interested in how the experience of these partnerships might help shape and inform future guidance and advice products from NICE."
Find out more
Vanguard representatives will discuss progress made and the challenges ahead at the NICE annual conference, Liverpool, 13-14 October. The 10.10am session 'Vanguards: Delivering the 5 Year Forward View' is on day 2.