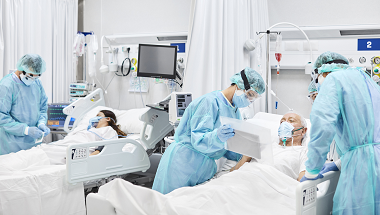 The new advice recommends offering a combination of casirivimab and imdevimab (known as Ronapreve, REGEN-COV, or REGEN-COV2, made by Regeneron Pharmaceuticals) to COVID-19 patients aged 12 and over who are in hospital. Eligible patients will need to be seronegative, meaning they do not have existing levels of SARS-CoV-2 antibodies in their system.
If patients do already have SARS-CoV-2 antibodies (seropositive) or their antibody status cannot be determined, then they should not be offered monoclonal antibody therapy, as they will receive no benefit from the treatment. In comparison, evidence shows that patients who are seronegative see a significant reduction in mortality when compared to normal care.
Casirivimab and imdevimab are monoclonal antibodies that bind to the spike protein of the SARS-CoV-2 virus, blocking entry into host cells. Monoclonal antibodies are made by cloning a specific white blood cell in the lab. Casirivimab and imdevimab are licensed for the prophylaxis and treatment of acute COVID-19 infection.
Dr Paul Chrisp, director of NICE's Centre for Guidelines, said: "This updated advice will help ensure that COVID-19 patients in hospital have access to the latest treatments, and that healthcare workers are aware which patients will benefit from these treatments.
"NICE is continuing to monitor and assess new evidence on potential and established COVID-19 therapeutics and will update the 'living' managing COVID-19 guideline when appropriate. We will continue to update users when new advice on COVID-19 is published, but we also encourage users to check the NICE website to make sure they do not miss any updates."
NHS England recently published an Interim Clinical Commissioning Policy recommending that casirivimab and imdevimab be available as a treatment option through routine commissioning for adults and children (aged 12 years and above) hospitalised with COVID-19. The policy includes eligibility criteria outlining that treatment with casirivimab and imdevimab will be considered for patients aged 50 or over, or those aged 12 to 40 who are immunocompromised.
The managing COVID-19 guideline was developed and published in the MAGICapp platform, a global system that promotes evidence sharing from different guideline creators, therefore increasing the speed at which guidance can be developed and the ease with which it can be updated.