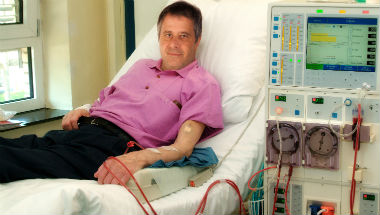 People being treated with dialysis after kidney failure are to be offered a choice over where and what type of treatment they have.
New recommendations say patients, in discussion with their clinician, can choose which type of dialysis is right for them and where they can have their treatment.
There are three types of dialysis which are offered on the NHS depending on local arrangements and which is right for the patient:
Peritoneal dialysis (PD) takes places at home. It involves pumping dialysis fluid into the space inside your abdomen to draw out waste products from the blood passing through vessels lining the inside of the abdomen.
Haemodialysis (HD) and haemodiafiltration (HDF) can take place at home or in hospital. Both involve diverting blood into an external machine, where it's filtered before being returned to the body.
Previously peritoneal dialysis (PD) was the first choice of dialysis treatment for people with residual renal function and adults without another significant disease or disorder. Children under the age of two will continue to be offered peritoneal dialysis (PD) in the first instance.
After deciding which type of dialysis is right for them, the patient in consultation with their clinician, will decide whether their treatment takes place at home or in hospital. This will also depend on local arrangements.
The independent NICE committee agreed clinicians should consider offering haemodiafiltration (HDF) in the first instance to patients who opt for treatment in hospital.
Dr Jan Dudley, consultant paediatric nephrologist at the Bristol Royal Hospital for Children and NICE committee chair, said: "Deciding which type of dialysis to have and in what setting may have quite different effects on a person's life. It may affect their ability to travel, for example. So we agreed a person should be able to choose the type of dialysis most suitable for them.
"We also said a person should be able to choose where they had their dialysis – either at home or in hospital – because at present there is no evidence to suggest clear differences between either settings."
Paul Chrisp, director for the centre for guidelines at NICE, said: "It is right patients get to choose what type of dialysis they want and where they want the treatment to take place.
"The committee agreed what might be right for one patient may not be for another and each individual should make the right choice for them alongside advice from their clinician.
"Dialysis is a time consuming procedure. Allowing a patient to decide where and when they have their treatment will allow them to lead the life they want."
Commissioners should look at their own current practices and judge them alongside this clinical guideline to see if they need to be updated. NICE clinical guidelines are not mandatory but considered best practice.
The recommendations are made in NICE final guidance on renal replacement therapy published today (Wednesday 3 October 2018).
Around 29,000 people are given dialysis treatment each year to remove waste products and excess fluid from the blood when the kidneys stop working properly.
Other recommendations in the guideline include offering information, education and support to enable people, and their families and carers, to make informed decisions while offering balanced and accurate information about all treatments available to them and how the treatments may affect their lives.
Ensuring the decision to start dialysis is made jointly by the patient and their healthcare team, is another recommendation.
Patients with a BMI of more than 30 should not automatically be preclude from being offered a kidney transplant - which continues to happen in some centres - the committee agreed.
Approximately 5,500 adults and children are currently on the national renal transplant waiting list according to NHS Blood and Transplant, with about 3,000 kidney transplants performed each year. The median time to transplantation for those on the list is around 1,000 days for adults and 300 days for children.