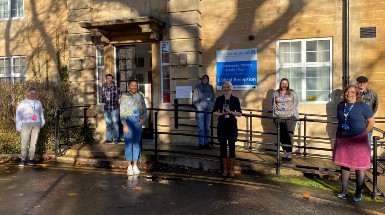 NICE is delighted to announce the winner of this year's Shared learning Awards – a project that successfully implemented guidelines to improve the outcomes for patients during a first episode of psychosis.
The awards, which took place last month, recognise where health and care practitioners have put NICE guidance into practice to improve outcomes and services for the people they serve.
This year, due to the ongoing pandemic, the NICE Shared Learning awards ceremony was held virtually.
Professor Gillian Leng, NICE chief executive, said: "The Shared Learning Awards provide an opportunity to hear first-hand from those who are successfully using our guidance to help improve the quality, safety and equity of care. The ongoing pandemic makes it essential that we continue to collaborate to ensure better outcomes for those using the healthcare system."
Prescribing guidelines for patients with a first episode of psychosis, a project from Avon and Wiltshire Mental Health Partnership Trust (AWP) aimed at improving prescribing practice and ensuring the right medication is provided at the right time for people in the first stage of psychosis, was voted the 2020 winner of the NICE Shared Learning Awards.
The AWP serves a population of approximately 1.8 million people. Prescribing greatly varied for patients with a first episode of psychosis. After seeing this happen, using NICE guidance 'Psychosis and schizophrenia in adults' (CG178) and 'Psychosis and schizophrenia in children and young people' (CG155), Early Intervention in Psychosis teams across the AWP wanted to develop clear guidance for prescribers of people with a first episode of psychosis to ensure evidence-based best practice.
Dr Liz Ewins, consultant psychiatrist for Bath and North East Somerset Early Intervention in Psychosis Team, Avon & Wiltshire Mental Health Partnership NHS Trust, said: "We are thrilled to have won the NICE Shared Learning award 2020 in recognition of our work to improve prescribing for patients with a first episode of psychosis. This has been a fantastic opportunity to share our learning with others. We have been able to raise the importance of early intervention, and the huge impact that appropriate early treatment can have on mental health.
"With input from the whole multidisciplinary team and Early Intervention in Psychosis teams across the country, we have produced evidence based prescribing guidelines to ensure that these vulnerable patients are not prescribed medication unnecessarily, are included in prescribing decisions, and therefore more likely to take medication, and that we choose medications which will have fewer side effects or long term physical health effects,"
Dr Liz Ewins was on hand at the virtual event to present their winning example along with her fellow finalists. The three finalists were chosen from a list of 20 highly commended examples which can all be found on the NICE website.
The runners up were:
This year, the awards event also highlighted two excellent examples of how our rapid guidelines or other NICE guidance have been used to help continue the care of people and resume services during COVID-19. These examples were:
Submissions for next year's Shared Learning Awards are now open so please visit the NICE website to find out more.