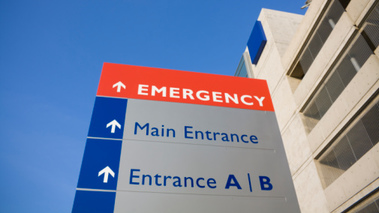 The report recommends following NICE's quality standard on chronic obstructive pulmonary disease (COPD) to help measure improvements made and standardise care.
COPD is a term used to describe a range of lung diseases that include chronic bronchitis, emphysema and chronic obstructive airways disease. People with COPD have difficulties with breathing, which can impact on their quality of life.
Flare-ups, known as exacerbations also often occur, where there is a rapid and sustained worsening of symptoms beyond normal day-to-day variations.
Published by the Royal College of Physicians, the National COPD Audit describes the care of 13,414 patients admitted to hospital for their COPD between 1 February and 31 April 2014.
The report found that despite some improvements, standards of care continue to vary widely across England and Wales.
In particular it finds that while respiratory specialists often provide better evidence-based care, access to specialists varies widely. For example, nearly half of patients were discharged within 3 days, many of whom had no contact with respiratory specialists. Furthermore, 20 per cent of patients were not seen by a respiratory expert at all during their stay.
Consequently, the report recommends following NICE's quality standard on COPD as a means of standardising care.
NICE says that people admitted to hospital with a flare-up of COPD, should be cared for by a respiratory team, and have access to a specialist early supported-discharge scheme with appropriate community support.
The report additionally calls for improved diagnosis and management of stable COPD. Spirometry is useful for diagnosing COPD, alongside an assessment of signs and symptoms. However, the report found that spirometry was only available in 46 per cent of cases, which is a drop from the 54 per cent recorded in 2008.
NICE says that people with COPD should have one or more indicative symptoms recorded, and have the diagnosis confirmed by post-bronchodilator spirometry. This should be carried out on calibrated equipment by healthcare professionals in its performance and interpretation.
Smoking increases the likelihood of COPD, especially if a person has been smoking for a long time. Yet the report found no evidence of smoking cessation advice given to 42 per cent of patients who smoked, and provision varied widely across sites.
NICE's quality standard calls for people who smoke regularly to be encouraged to stop and that they are offered a full range of smoking cessation support.
Professor Gillian Leng, Deputy Chief Executive and Director of Health and Social Care at NICE, added: "The NICE quality standard on COPD provides 13 statements that together can help address the variation in care of patients with COPD.
"Specialist support, the use of spirometry for confirming diagnosis and smoking cessation support are all effective interventions for patients with this disorder."
Dr Robert Stone, COPD audit clinical lead for secondary care, said: "We seem to be managing the 'front end' of the admission better, but there is a problem getting respiratory specialists (who provide better evidence-based care than the non-specialists) to patients in a timely fashion, particularly at weekends.
"Many patients don't get to see a respiratory specialist and there remains a major issue getting the patients onto a respiratory ward."