The guidance recommends the GreenLight XPS laser system for patients who aren't at high risk of complications from treatment, such as those men without urinary retention or an increased risk of bleeding, and whose prostates are smaller than 100ml.
The NICE committee found that men benefit from a quicker return to normal activity following treatment and a shorter period of time in hospital because the Greenlight XPS procedure can be done as a day-case. The NHS also benefits: NICE estimates up to an estimated £3 million could be saved by using this device when compared with the commonly used procedure transurethral resection of the prostate (TURP) because TURP requires an overnight stay in hospital.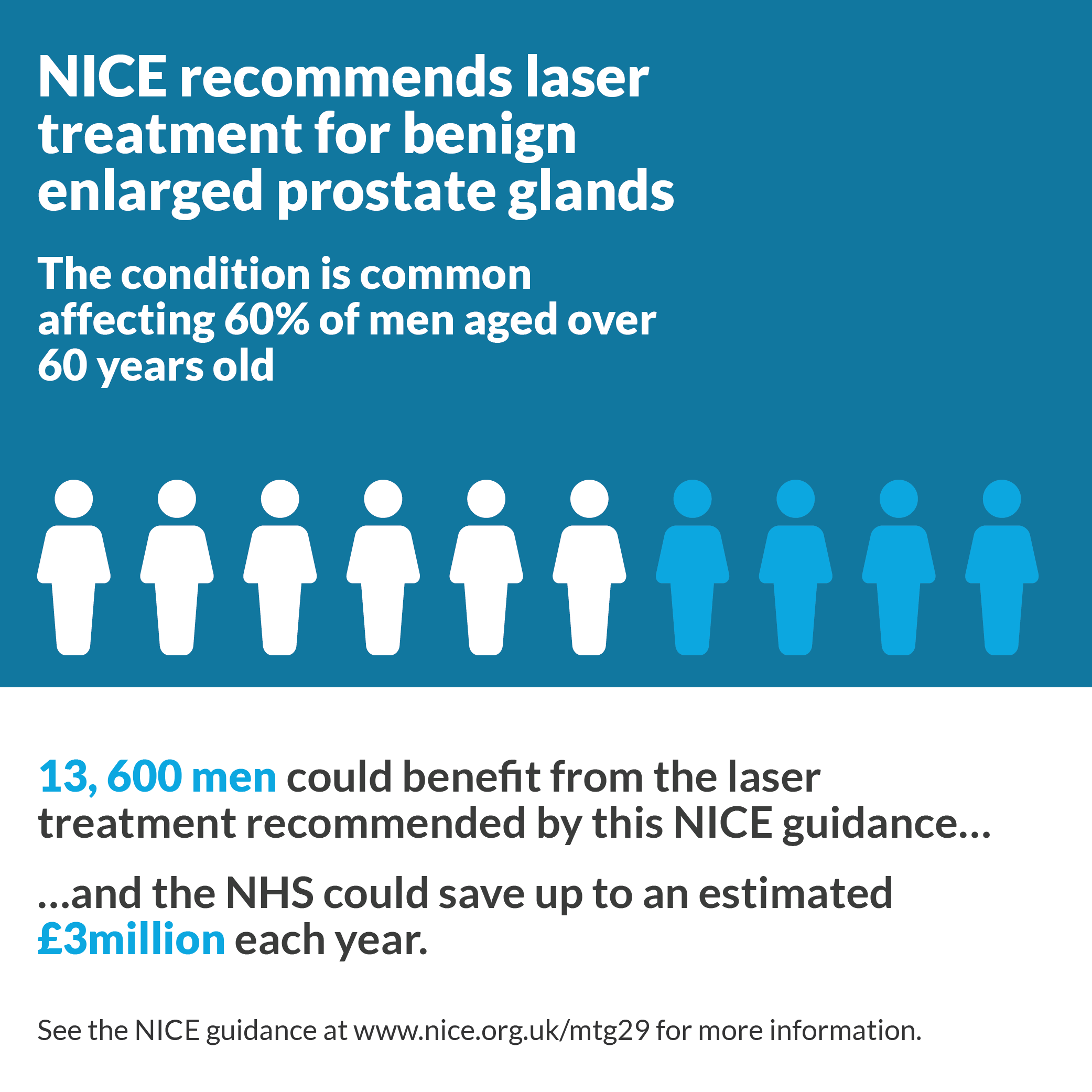 Professor Carole Longson, director of the NICE Centre for Health Technology Evaluation, said: "Whilst benign enlarged prostates may not be life threatening, the condition can impact on men's lives significantly.
"A procedure to reduce the amount of excess prostate tissue can improve the quality of life for men. Using the GreenLight XPS is more convenient for patients than other surgical procedures as they don't need to stay in hospital overnight and they can return to normal activity faster."
Benign prostate enlargement, also called benign prostatic hyperplasia, is common in older men; around 60% of men aged 60 or over have the condition. An enlarged prostate can push against the urethra, making it difficult for a man to pass urine. Symptoms also include an urge to urinate in the night, but the condition doesn't pose other direct risks to health.
The device, GreenLight XPS, involves using a laser to vaporise excess prostate tissue, which eases the blocked urethra and leaves a clear channel for urine to flow.
"It's made a real difference for both patients and staff"
Mr Jiwan Darrad, consultant urological surgeon at Doncaster and Bassetlaw Hospitals NHS Foundation Trust, said: "Since I started using the GreenLight XPS system in my urology department it's made a real difference for both the patients and the staff.
"The procedure is performed on a day case basis, so surgery can go ahead as planned without being affected by availability of hospital beds – this has reduced inconvenience for patients awaiting treatment.
"Also patients can go home after only a few hours instead of needing to stay overnight, and there's been a low level of complications. I hope that this new NICE guidance encourages other urology departments to use GreenLight XPS for treating men with benign prostatic hyperplasia."