Atrial fibrillation (AF) causes the heart to beat irregularly, and often speed up. Around 800,000 people in the UK have AF, though up to 250,000 people may be living with AF that is unrecognised. The condition is described as a 'silent killer' as many people with AF have no symptoms and it can be difficult to diagnose.
The likelihood of stroke increases five times among those with AF, with 12,500 strokes directly attributable to AF occurring annually. These strokes can be effectively prevented through anticoagulation drugs, yet only 45% of those who are eligible for these treatments currently receive them.
This could be due partly to the risks and side effects associated with warfarin – a commonly used anticoagulant that is effective but has certain drawbacks, and requires regular monitoring and dose adjustments, to ensure it is working properly. In addition, aspirin has historically been recommended as a less effective but safer alternative to warfarin to reduce the risk of stroke in people with AF.
To improve the treatment and management of the condition, NICE has updated guidelines on atrial fibrillation.
With a number of newer drugs now available and recommended for stroke prevention in AF, NICE recommends a new generation of oral anticoagulants should be offered where appropriate – namely apixaban, dabigatran etexilate and rivaroxaban. Known as novel oral anticoagulants (NOACs), the drugs do not require the same regular level of monitoring or dose adjustments as warfarin.
Doctors should use the CHA2DS2-VASc tool to assess the risk of stroke in people with AF. The tool can help distinguish between those with a low risk who do not need anticoagulation, and those with a higher risk who do. NICE recommends that anticoagulants should be offered to people with a CHA2DS2-VASc score of 2 or above taking bleeding risk into account.
A consensus statement by the NICE Implementation Collaborative (NIC) has been published alongside the guideline which addresses some of the barriers to prescribing NOACs. The NIC is a partnership between the NHS, the life sciences industry, healthcare professional bodies, key health organisations and the public. The statement supports the NHS in implementing this guideline, and provides clarity on how to maximise outcomes for patients using NOACs. It highlights that arrangements for the use of antithrombotic therapies in atrial fibrillation should be reviewed and policies developed for integration of NOACs in the local care pathway in line with the new NICE guideline.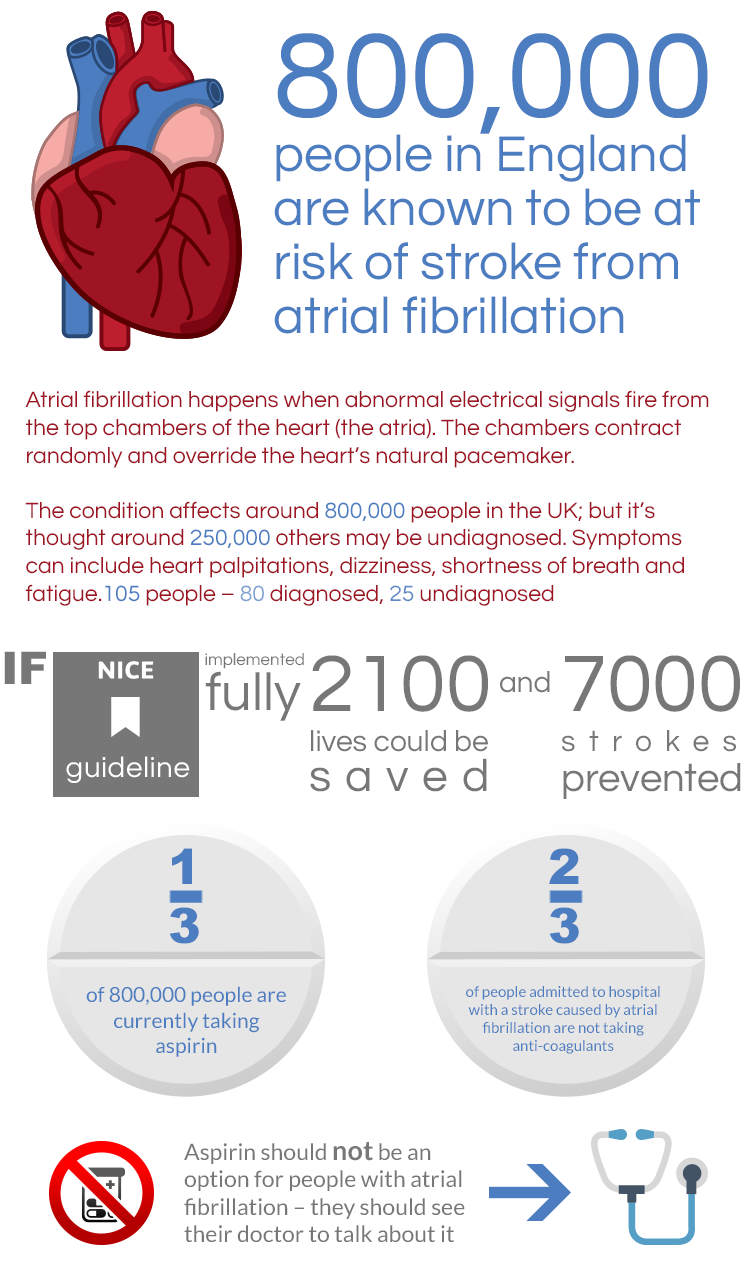 An essential part of appropriate prescribing of anticoagulants is to ensure that patients are fully informed and actively involved in decision making about their anticoagulant treatment. A patient decision aid has also been published, which will help patients to make informed decisions about their treatment and care.
Elsewhere, the guideline recommends that aspirin should not be offered to people with AF solely on account of increased risk of stroke. This is because new evidence shows that aspirin is not as effective as anticoagulants at preventing stroke in people with AF who are at increased risk, and that it is no safer than in terms of bleeding risks than anticoagulants.
In addition, a personalised package of care should be offered to people with AF that covers stroke awareness and measures to prevent stroke, rate control, assessment of symptoms for rhythm control and up-to-date comprehensive information and education.
Professor Mark Baker, NICE's Director of Clinical Practice, said: "We know that AF increases the risk of strokes by up to five times. It's estimated that the condition causes around 12,500 strokes each year. We also know that that around 7,000 strokes and 2,000 premature deaths could be avoided every year through effective detection and protection with anticoagulant drugs that prevent blood clots forming.
"Unfortunately only half of those who should be getting these drugs, are. This needs to change if we are to reduce the numbers of people with AF who die needlessly or suffer life-changing disability as a result of avoidable strokes."
Professor Neal Maskrey, Consultant Clinical Adviser at NICE, and a member of the group that produced the NIC consensus statement, said: "The NICE Implementation Collaborative has summarised key aspects of the new guidance around the use of the new generation of oral anticoagulants and recommends ways in which local practices can be adapted to deliver high quality treatment for people with AF.
"In addition, NICE has worked with AF experts and patients to produce its first pilot patient decision aid. This is designed to help patients weigh up the possible benefits, harms, advantages and disadvantages of the different options for treatment so that they can better discuss them with a health professional and come to a decision together."