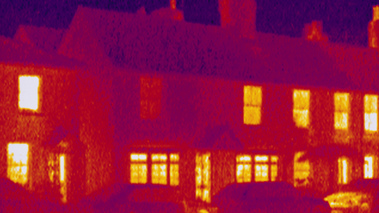 Each year there are around 24,000 excess winter deaths, and many more people are made ill by living in a home that is too cold.
The UK tends to have higher winter mortality figures than colder countries such as Germany and Finland as a result of having some of the poorest housing stock in Europe.
People who are vulnerable to health problems linked with cold homes are those with cardiovascular or respiratory conditions like chronic obstructive pulmonary disease (COPD), babies and children under age of five, people aged over 65, people with mental health conditions or disabilities, pregnant women and people on low incomes.
Cold weather is estimated to cost the NHS £1.3bn a year, according to the charity Age UK.
Health can be affected when outside temperatures drop to around 6°C, which means that vulnerable people are at risk at normal winter temperatures and not just during extremely cold weather.
Single point-of-contact
This latest guidance recommends that health and social care professionals, as well as those working in the heating, plumbing and electricity industries sign post people who live in cold homes to a single-point-of-contact system for help in making their home warmer.
Local health and wellbeing boards should ensure that a single-point-of-contact health and housing referral service is designed and commissioned to help vulnerable people who live in cold homes.
There are a number of solutions available to help people living in cold homes, including heating improvement programmes and grants, free loft insulation, and advice on managing energy effectively in the home and securing the most appropriate fuel tariff and billing system.
Professor Gillian Leng, Deputy Chief Executive of NICE, said: "Anyone who comes into contact with vulnerable groups should be able to refer people to the service, including health and social care staff, safety services staff and workers from charities and voluntary organisations. Properly using this huge number of contact opportunities can make a big difference in preventing illness and saving lives.
"We must stop the revolving door scenario where people are made ill by living in a cold home, they go into hospital for treatment, but then are discharged back to the cold home which continues to damage their health.
"What help the person needs should be assessed well before plans are made for discharge so they can get home without delay, and even simple actions like asking someone to switch the heating on before a person returns home can make a difference. This guideline can help break that cycle and instead get support to people whose health is at risk because they live in a cold home."
Make every contact count
"GPs need to flag up which patients are living in cold homes and have a conversation about the impact of cold on their health," said Dr David Sloan, Co-Chair of the NICE committee which developed the guidance.
"As a former GP and director of public health, I've seen at first hand the effects that living in a cold home can have on a person's health.
"Doctors, nurses and other health staff prevent and treat illnesses every day but we are suggesting that thinking about the health effects of cold homes is also their business.
"This new NICE guideline says that health, social care and other professionals should always take a minute to consider the health risk of cold homes when in contact with patients and clients, and know what steps to take to get help to the people who need it. This conversation could happen, for example, when people come in for their flu jab. It's about embedding this into the systems that already exist."
Simon Roberts OBE, Chief Executive of the Centre for Sustainable Energy in Bristol, who also helped develop the guidance, said: "As this NICE guideline makes clear, living in a routinely cold home is bad for your health and wellbeing and makes existing health problems worse.
"The good news is there are simple steps that can be taken to address this, starting with the health service recognising the problem and putting in place systems to refer patients to local initiatives that can help to tackle their cold homes – and thereby reducing the harm done to their health."
Caroline Abrahams, Age UK's Charity Director, added: "NICE has delivered a first rate report and guideline, based on robust research and evidence-based evaluation. On winter morbidity and mortality we are particularly pleased that the guideline makes clear that this is not just about 'cold snaps': winter illnesses and deaths accelerate even in a 'normal winter', with around 25,000 older people dying from cold weather every year – that's one person every seven minutes.
"Health and Wellbeing Boards must include the health consequences of living in a cold home in their strategic needs assessments and strategic plans. They must also ensure that health and housing professionals can refer people living in cold homes to an appropriate agency for help and advice."