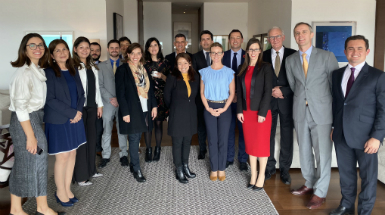 Learning from the work of NICE in developing a world leading Health Technology Assessment (HTA) programme was one of the subjects discussed on a recent visit to Latin America.
Along with HTA expert Professor Bruce Campbell, the NICE International team delivered three full day workshops in a five-day trip to Uruguay, Brazil and Colombia, with representatives from Peru attending the latter. The workshops were coordinated by the UK Department of International Trade and the British Embassy in each of the countries.
Each country has their own HTA programme, all operating slightly differently and some more advanced than others. This was the main topic of conversation. All face similar challenges but one of the consistent themes was how NICE engages with different stakeholders including industry, clinical professionals and patients
The main audiences were the ministries of health and senior members from HTA agencies but other relevant stakeholders attended including academics, hospitals, and industry.
The agenda was developed alongside each ministry of health and the challenges they face within their territory. Guidelines were also discussed, particularly in Colombia, where there was great interest around the methodology for adapting the guidelines to make them relevant to other jurisdictions. Dealing with new expensive therapies and development of managed access agreements were also amongst the topics.
NICE International aims to create long-standing relationships with the four countries in order to collaborate, share experiences and learnings. The visits, in October 2019, are hoped to be the start of a long-standing, mutually beneficial relationship and some follow up visits have taken place as a result.
NICE International is now embarking in the second phase of this initiative, where they will be conducting similar workshops in Mexico, Panama, Dominican Republic and Costa Rica with the aim to also establish long-term mutually beneficial relationships with these countries.
Blog comments
There are no comments