In the last 12 months, we've published a number of pieces of guidance and quality standards, covering topics such as oral health, statins, prostate cancer and obesity. We also launched our first guidelines on social care and safe staffing.
We begin by taking a look at the guidance and advice that has generated the most interest during the first half of the year.
January
Sporting figures welcome guidance on head injury
At the start of the year, we launched updated guidance on head injuries. The guideline stresses the importance of early detection and prompt treatment for head injuries.
Dr James Robson, National Team Doctor for the Scottish Rugby Union and head doctor during the British & Irish Lions tour to Australia last year, welcomed the guideline. He said: "The NICE 2014 guidelines on Head Injury are a welcome release at a time of unprecedented activity on this issue in sport both nationally and internationally.
"The guidelines should be a required read for all professionals involved in the management of Head Injury in the pre- and hospital settings; and in particular for myself and other colleagues, in the sporting arena."
New protocol for active surveillance of prostate cancer
Our updated guidelines on prostate cancer included a new protocol for active surveillance. This is a way of monitoring slow-growing prostate cancers that might never progress or cause any symptoms, and can help avoid or delay treatment such as radiotherapy or surgery which might otherwise be unnecessary.
February
Domestic violence "wake up call"
"Domestic violence and abuse are far more common than people think," said Professor Mike Kelly, Director of Public Health at NICE in February.
His comments followed the publication of new public health guidance on domestic violence. The guidance breaks new ground as the first major review across all of the evidence around domestic violence, and sets out recommendations for training to help identify, prevent and reduce domestic violence.
Gene Feder, Professor of Primary Health Care at the University of Bristol said that "We need to wake up to the magnitude of the problem."
He added: "The guidance gives a clear set of recommendations about how to respond appropriately. It recommends training for doctors so that they have the confidence to be able to ask about abuse and offer referral to support services."
Exercise a core treatment for osteoarthritis
Updated guidance on osteoarthritis was also published this month. The guidance recommends exercise as a core treatment for managing the condition, and includes recommendations on diagnosis, advice on joint surgery, and follow-up review.
March
Ensuring care home residents a greater say in decisions about treatment
March saw the publication of our first social care guideline on managing medicines in care homes, which calls for care home residents to be given a greater say in decisions about their treatment.
The guideline recommends that GPs, pharmacists, care home staff and social care workers, ensure care home residents have the same opportunities to be involved in decisions about their treatment and care as people who do not live in care homes. They should also be given the support they need to help them take a full part in making decisions.
Better access to contraceptive services will reduce unwanted pregnancies
Guidance on contraceptive services, also published in March, said that better access to contraceptive services will reduce unwanted pregnancies. The guidance says that all young people in England should be given access to contraception and advice at convenient locations so no-one is denied services because of where they live.
April
Safe needle and syringe use
Updated guidance on needle and syringe programmes, launched in April, aims to reduce the spread of blood-borne viruses and infections from contaminated needles.
The guideline addresses the growing number of image and performance enhancing drug users – long considered a "grey area" for needle and syringe services around England that are traditionally geared up to help hard drug users.
David Rourke, Harm Reduction Lead for CRI's Arundel Street Project - a needle and syringe programme in Sheffield, said: "This guideline gives front-line workers clear recommendations on how to support image and performance enhancing drug users. Up to now this has been a grey area; services around the country have been patchy to say the least."
A new and novel test for asthma
April also the publication of guidance on a simple test to help diagnose and manage asthma. People with some types of asthma have higher levels of nitric oxide in the air they breathe out. The guidance recommends three devices to measure these nitric oxide levels, which can then be followed up by treatment with corticosteroids.
May
No "magic bullet" for losing weight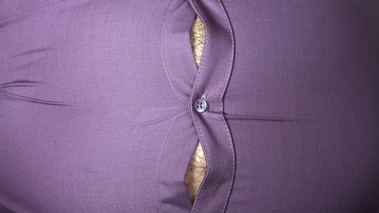 Those of us looking to shed a few extra pounds gained over the festive period may be dismayed to learn that, according to NICE, there is no "magic bullet" for weight loss.
In May, we published guidance on managing overweight and obesity which said that there are no quick fixes for losing weight, and that realistic weight loss goals work better.
It advises that people attending a lifestyle weight management programme should look to make gradual, long-term changes to dietary habits and physical activity levels, and that a weight loss of 3 per cent of their body weight kept off for life may improve or prevent health problems.
The programmes should explain that the more weight lost, the greater the health benefits particularly if someone loses more than 5 per cent of their body weight and maintains this for life.
June
Preventing unnecessary deaths from stroke
Ensuring patients receive effective anticoagulant drugs could prevent thousands of strokes due to atrial fibrillation (AF), according to updated guidance published in June.
With a number of newer drugs now available and recommended for stroke prevention in AF, NICE recommends a new generation of oral anticoagulants should be offered where appropriate – namely apixaban, dabigatran etexilate and rivaroxaban. Known as novel oral anticoagulants (NOACs), the drugs do not require the same regular level of monitoring or dose adjustments as warfarin.
Professor Mark Baker, NICE's Director of Clinical Practice, said: "We know that AF increases the risk of strokes by up to five times. It's estimated that the condition causes around 12,500 strokes each year. We also know that that around 7,000 strokes and 2,000 premature deaths could be avoided every year through effective detection and protection with anticoagulant drugs that prevent blood clots forming."
Blog comments
There are no comments