19 August 2014
Better Care Fund: How NICE can support the integration of health and social care services locally

Local Councils and CCGs submitting plans to the Government's Better Care Fund (BCF) can get inspired by service integration case studies in the NICE Local Practice Collection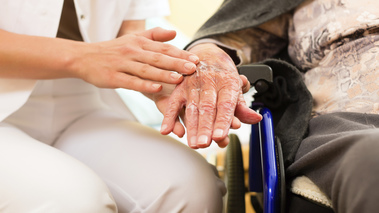 Better integration of health and social care services is a critical part of delivering efficient user-centred care.
By working together, NHS organisations and local government can help reduce hospital admissions and ensure that more people receive high quality care in community settings.
For patients and services users, integrated care means being at the centre of their own care, and not having to re-state personal details, symptoms or needs several times, or falling between gaps in disparate services or suffering from uncoordinated visits to different services.
For local Clinical Commissioning Groups (CCGs) and Councils, integrated care is likely to mean the realignment or redesign of services and sharing of some budgets.
NICE has an important role to play in supporting local organisations to integrate their service delivery, and in particular to support CCGs and Councils in the process of submitting plans to the Government's £3.8bn Better Care Fund.
"NICE is well placed to be the first port of call for any local NHS organisations or Councils looking to provide integrated care," says Professor Gillian Leng, NICE's Deputy Chief Executive.
"Our evidence-based guidance and quality standards set out what high quality care looks like across a variety of providers and settings. What's more, we provide a variety of resources and support to help drive change at a local level.
"For example, our Local Practice Collection brings together hundreds of case studies highlighting projects happening around the country to improve the quality of care commissioned and provided."
Eighteen examples in NICE's local practice collection highlight projects already underway where integration of services has led to improvements in quality and productivity:
For practical, hands-on support for integrating services locally NICE has a dedicated field team of implementation consultants. Our field team works with people at a local level to help inform them about putting guidance into practice, to keep them up to date on what is relevant to them from NICE, and to help share and spread good practice. Each consultant links with social care, the NHS, local authorities and other organisations in their area, and gives them a chance to feedback to NICE on things that we could do better to meet their needs. If you would like to meet your local NICE implementation consultant please contact the NICE Field Team.
Organisations interested in using high quality, authoritative evidence to plan services locally can also use NICE Evidence Services, a free online portal providing access to trusted and accredited sources of evidence across health, public health, and social care.