27 August 2014
Bringing the safest and most effective procedures to the NHS

As NICE publishes its 500th piece of Interventional Procedures guidance, we look at the impact the programme has had on patient care.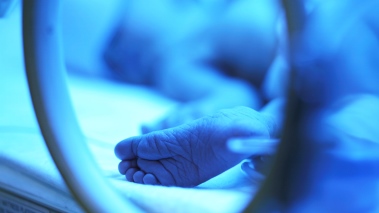 Ensuring that patients receive high quality healthcare that is safe, effective and focused on patient experience, is a guiding principle for the NHS. Yet there are times when the quality of care provided can fall short of expectations.
In 1998, following high death rates after paediatric cardiac surgery in the 1980s and 1990s, an enquiry was held into the deaths of 29 babies who underwent heart surgery at Bristol Royal Infirmary.
The 1990s also saw a high incidence of complications with keyhole surgical procedures as they began to be introduced to the NHS.
Both cases highlighted the devastating consequences that can occur when systems and procedures fail to be effective.
Up until this point, there was no agreed process for regulating or evaluating procedures, or for making sure they are introduced into the NHS in a responsible way.
To address this, the Department of Health asked NICE to form the Interventional Procedures programme. Launched in 2002, the programme produces guidance to ensure that new procedures are introduced to the NHS in a way that is both safe and effective.
Safeguarding patients and healthcare professionals
Interventional procedures guidance covers a wide range of treatments and diagnostic tests. These include surgical operations, procedures carried out through arteries and veins, and those done using ultrasound or X-ray.
The creation of the programme meant that, for the first time, guidance was available to support healthcare professionals in carrying out procedures and to ensure patient safety.
"The fundamental aims of the programme were to help patients get access to new and effective procedures as soon as possible, but also protect them from harm," says Professor Bruce Campbell, Chair of the Interventional Procedures Advisory Committee.
"The guidance balances the evidence that procedures work well enough and are safe enough.
"It specifies whether special training, expertise, teams or facilities are necessary for procedures to be done safely.
"And it flags up what additional information is needed from research or collection of data, to know enough about the procedure to judge it fully."
Cooling treatments for babies with brain injury
Over the years, the programme has produced guidance on a number of procedures that it has found to be safe and effective.
Among these was a cooling treatment for babies with form of brain injury.
Hypoxic ischaemic encephalopathy occurs when babies are deprived of oxygen around and during the time of birth. The condition can lead to death or permanent disability.
In 2010, NICE produced guidance which said that cooling the body temperature of babies with this condition – a procedure called therapeutic hypothermia – can save a significant number of their lives.
The guidance recommends that the procedure is safe and effective in certain circumstances among carefully selected newborn babies, and that it can lower the chance of developing severe disability or death.
Following the publication of the guidance, Cambridge University Hospitals NHS Foundation Trust implemented the recommendations to improve the care of babies in its units.
This directly led to improvements in care in several areas. These included an increase in the compliance of monitoring body temperature from 0 to 100 per cent, a reduction in time of referral, earlier age at which cooling is started, reduced time in reaching the target temperature, and increasing the number of babies reaching target temperature within 6 hours to 100 per cent.
The Trust was subsequently recognised by NICE for its work in this area by winning the Shared Learning Award in 2012.
'Do not use' recommendations
While prompt access to the safest and most effective procedures is important, it is equally important that the programme advises on procedures that are ineffective or harmful.
In 2009/10, the programme assessed two different procedures for treating angina. The first treats angina using a laser device inserted through a cut in the chest, and applied to the outside of the heart wall. The second treats angina using a laser applied to the inside of the heart wall via a catheter inserted through an artery.
Following assessment of these procedures, the programme recommended that they should not be used.
"In providing 'do not use' recommendations, our guidance helps reduce ineffective practice and improve efficiency by reducing costs within the NHS," says Professor Campbell.
"The evidence showed that both of these invasive treatments did not improve patients' angina and caused significant risks including heart attacks and irregular heartbeats."
The programme also makes 'research only' recommendations in certain cases.
This can happen when a procedure is still considered to be experimental, or uncertainties need to resolved before positive guidance over its use can be developed.
An example of this is a procedure for treating bleeding in the brain among premature babies by drainage, irrigation and breaking down blood clots.
The procedure is known as drainage, irrigation and fibrinoliytic therapy for post-haemorrhagic hydrocephalus in preterm infants (DRIFT). It aims to tackle a serious complication that occurs within a few days of birth in a small proportion of infants.
The guidance says that there is currently not enough evidence to be certain about how well the procedure works or how safe it is.
For this reason, it recommends that the procedure should only be used in the context of research.
Revisiting guidance following new evidence
Given the constantly evolving nature of medical evidence, it is important that our guidance is kept up to date, and reflects new evidence on the safety and effectiveness of procedures.
Over the years NICE has updated its recommendations in cases where evidence on a procedure has become more available.
In November 2013, the programme produced updated recommendations for a surgical technique to heal people left with their abdomen open, to treat severe infection or after emergency surgery.
NICE originally produced guidance on this procedure 2009, which said that there was not enough good evidence on its safety and efficacy.
Following concerns raised over its safety by a specialist unit, NICE organised a UK- wide clinical audit into the management of open abdomen.
Professor Campbell comments: "Initially, we recommended that this procedure should only be used with special arrangements since there was not enough good evidence on its safety or efficacy.
"However, as a direct result of the audit we carried out, we were able to conclude that the procedure does not cause the problems which were suspected and that its routine use in the NHS is entirely reasonable."
A full list of Interventional Procedures guidance published to date is available for you to browse on our website.