Photo credit: Jonathan Perugia/Gaia Visual
A taster of Professor David Haslam's interview with Prof Humphrey Hodgson, for the Royal College of Physicians' magazine Commentary:
Though still accountable to the Department of Health, NICE works independently of government, and has thrived against a background of many changes to health and social care in the UK, establishing an enviable international reputation. NICE commissions the National Guideline Centre – hosted by the RCP – to create many of its guidelines. In addition to evidence-based clinical, public health and social care guidelines, NICE also produces Quality Standards and other performance metrics, technology appraisals and a variety of other health technology guidance and a range of advice and information services.
HH: You've got guidelines and pathways. Pathways seem logical but if you have guidance saying 'make more cycle lanes' [NICE guideline PH41 – Physical activity: walking and cycling] is that what NICE is about?
DH: We're talking about a number of things here. We work across the whole of health, public health and social care, so it's an enormous remit. Of course it's quite logical – every clinician knows – that the boundaries between these different bits are entirely artificial and of no interest to patients or people who use services. If you're asking 'What's the point of producing guidance that looks at public health issues like exercise?' then the potential benefits from prevention aren't terribly exciting, but every physician knows the challenges of obesity and type 2 diabetes. Anything that we can do to try and fundamentally produce the evidence base that says 'doing this is worthwhile' makes the argument for funding projects that will improve the health of the nation in the long term. We don't just produce opinions; everything is, as much as possible, evidence-based.
HH: Do you think that is moving into an area where there are other contributors? NICE is, if you like, ours: it belongs to doctors, so to speak. Its primary reason was to give evidence-based guidance on treatment.
DH: It's an interesting point. If you're looking for instance at the problem of Alzheimer's disease: you can look at it from the point of view of the latest – and potentially very expensive – drug for treating it, and also the incredible importance of kindness in care homes, the whole ongoing care aspect, and anything to do with prevention is important. Why would you want to separate those? I know there's a logic of saying 'stick to your knitting' and our 'knitting' is the guidance of the particular individual conditions but actually health is much broader than that. The other really important aspect about NICE is that we do what we're commissioned to do. We're asked to do various bits of work either by the Department of Health or by NHS England or Public Health England. There is a perception by them that we are good at what we do and that's why we do it.
"The big challenge: multi-morbidity"
HH: Since you took over nearly 3 years ago, what are the major things that have happened on your watch?
DH: As chairman my responsibility is around long-term strategy and ensuring the governance is right and making sure the organisation keeps functioning. We're one of the very few surviving healthcare organisations from 1999, which is when NICE was formed. Talking to a royal college that was founded 500 years ago I realise that this is nothing, but you're well aware that NHS organisations have a pretty short half-life generally, so the very fact that we've survived demonstrates something.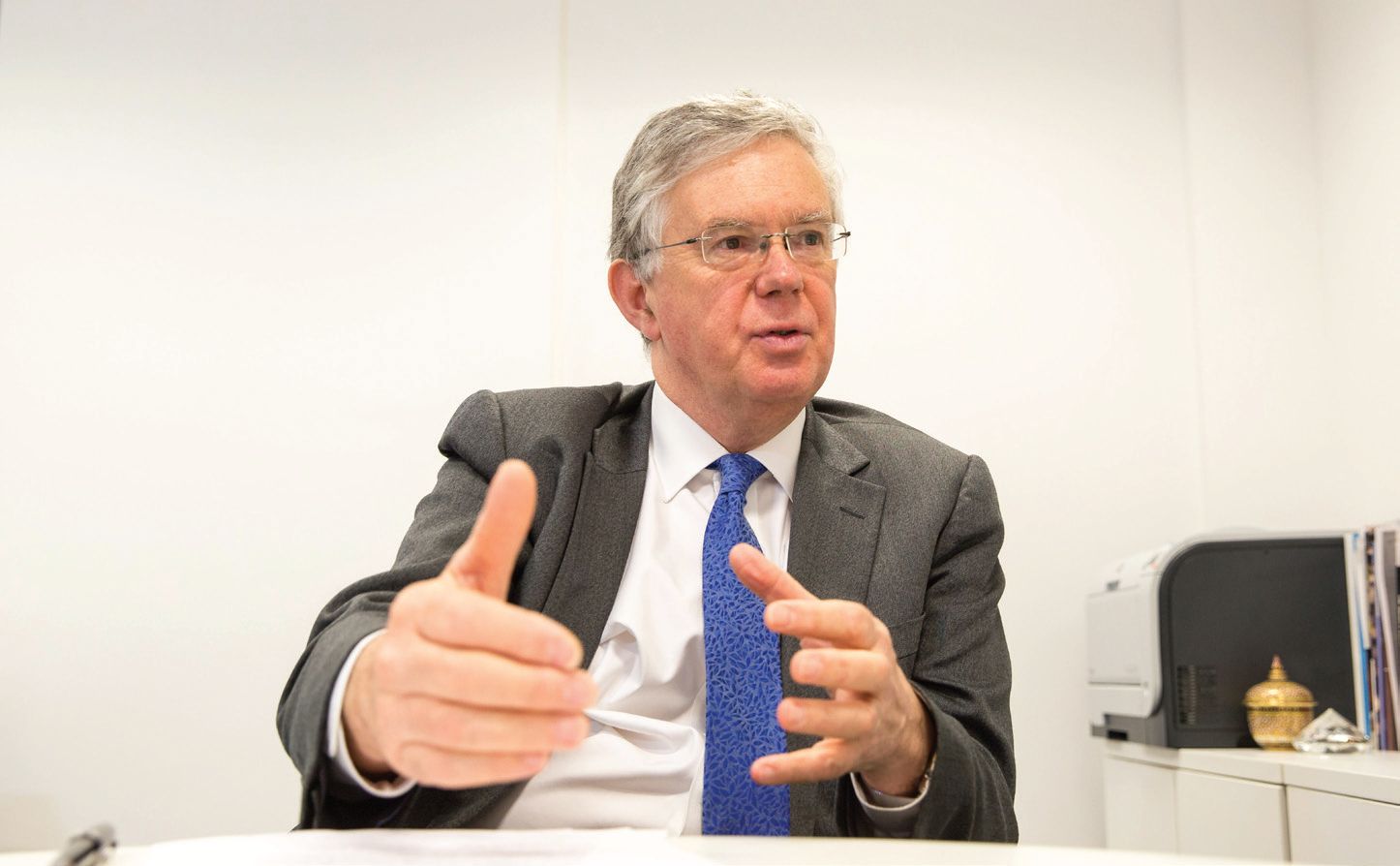 Photo credit: Jonathan Perugia/Gaia Visual
For me the big challenge, and the thing I'm personally most interested in, is the linked problem of multi-morbidity and shared decision making, and the complexity that comes from those sorts of issues. The evidence is really clear that there are more people with two or more long-term conditions in the UK than there are people with one long-term condition. And yet so much of medicine and so much of research, so many guidelines, so much of NICE's work in the past has focused on the single condition – this is how you manage this condition or that condition. Trying to bring those together is important and having publicly consulted on the draft multi-morbidity guideline, the final guideline is expected in the autumn of this year.
It has struck me for a long time that if you're someone with eight conditions, say coronary artery disease, hypertension, hyperlipidemia, chronic kidney disease, macular degeneration and osteoarthritis and depression, which is not an unusual mix, what does 'good' look like? It certainly doesn't look like adding all the NICE products together. I go and meet the presidents of all the medical royal colleges and they all tell me how much they worry about juniors treating guidelines as mandatory, that you must do this, you must prescribe that. I suspect this ends up in over-treatment, polypharmacy, and massive drug interactions.
We know the average person in a care home is on nine medications. The amount of research that has been done into the interactions of nine simultaneous medications is almost non-existent, so there's an interesting challenge around how you deal with multi-morbidity. The mantra that I've given in every lecture is that they're guidelines and not tramlines. Doctors have a fundamental responsibility to use guidelines with their experience and with patients' individual needs to get the best possible overlap between patient-centred medicine and evidence-based medicine. It's not either/or. Getting that right is my passion.
Read the full interview in the RCP's magazine, Commentary.