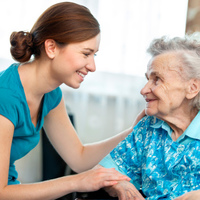 More than 400,000 older people currently live in care homes, a figure set to increase given the UK's ageing population.
While many older people in care homes are well looked after, cases of substandard care or neglect have been highlighted too often, raising fears of how well-equipped health and social care services are to deal with an older society.
One issue that complicates care is the prevalence of mental health issues among older people. Depression and loneliness, and low levels of life satisfaction are common among the elderly, and the way that these issues are addressed can vary.
Dementia affects around two-thirds of residents, yet many care homes do not provide person-centred care, which can help address their particular needs.
To help tackle these issues, NICE has produced a new quality standard on the mental wellbeing of older people in care homes, which contains six measurable statements that aim to improve health and care.
Here we take a lot at some of the issues the quality standard addresses, and examples of activities that can help improve the quality of care and experience of older people receiving care in the care home setting.
Participating in meaningful activity
For many older residents in care homes, a lack of activities to occupy their time is the main reason for their dissatisfaction with the care they receive.
A report from the Alzheimer's Society highlights that more than half of carers feel their relative does not have enough to do during the day. It also found that the typical person in a home spent as little two minutes interacting with staff over a six-hour period.
Increased activity and engagement can have a positive effect on quality of life and contribute to other important outcomes including mortality rates. Research also shows that inactivity and low levels of engagement lead to loss of physical function, social isolation, behavioural symptoms and poor quality of life.
Consequently, the first statement in NICE's quality standard calls for older people in care homes to be offered opportunities during their day to participate in meaningful activity that promotes their health and mental wellbeing.
NICE says that older people in care homes should be encouraged to take an active role in choosing and defining activities that are meaningful to them.
Whenever possible, and if the person wishes, family, friends and carers should be involved in these activities to ensure the activity is meaningful and that relationships are developed and maintained.
George McNamara, Head of Policy at the Alzheimer's Society, agrees that ensuring residents participate in meaningful activity is an important component of care.
"We know that for residents, quality of life can be improved when care homes are more engaged with their communities, as this allows residents to carry on enjoying the interests and hobbies when they enter the home," he says.
"Activities are not commonplace, and I think one of the first steps that staff in care homes can take towards ensuring meaningful activity is to build meaningful relationships with residents."
NICE defines meaningful as activity physical social and leisure activities that are tailored to a person's needs and preferences.
This can include daily activities such as dressing and eating, reading, gardening, and arts and crafts. They can be structured or spontaneous and may involve family, friends, carers and the wider community.
Mr McNamara continues: "Small measures can make a real difference when it comes to ensuring meaningful activity.
"We've seen some really good examples, such as where a number of residents in a care home had an interest in a local football team over number years. The simple act of helping them reminisce over their local club had a transforming effect on them, which was great to see."
Maintaining and developing personal identities
Statement two of the NICE quality standard says that older people in care homes should be enabled to maintain and develop their personal identity.
Stephen Lowe, Social Care Policy Adviser at Age UK, comments: "Being aware of an older person's personal history and interests can make a real difference to their self-esteem and their self-confidence, and is very dependent on how staff interact with people.
"Older people should be seen as having a past and having had interests in their life, rather than as just someone who, for example, has dementia."
NICE says older people should be involved in decision-making, and supported and enabled to express who they are as an individual and what they want, making their own choices whenever possible.
Enabling them to maintain and develop their personal identity during and after their move to a care home, promotes dignity and has a positive impact on their sense of identity and mental wellbeing. This is especially important as an individual's personal identity may change as their circumstances alter.
Staff can achieve this by using a person's life history to tailor support and opportunities to the needs and preferences of the individual.
Furthermore, they can ensure that older people are able to choose their own clothes, have their most valued possessions with them, and choose where to sit while they are eating.
Mr Lowe continues: "It's good to see NICE recognising the move into a care home as a process of transition, and that they look at the importance of a changing personal identity, rather than seeing being in a care home as a static situation.
"Personal identity is not entirely based on what you did when you were younger. It's also about supporting people when they enter a new setting.
"People will often have to come to terms with a new personal identity in these new environments and they need to be supported with that. I think there are various measures care home staff can take to address this, and that includes making time to talk to people.
"Another suggestion we've had is to record people's preferences and dislikes, what they did when they were younger, what their interests are, when they enter a care home."
Recognising mental health conditions
Statement three of the quality standard calls for older people in care homes to have the symptoms and signs of mental health conditions recognised and recorded as part of their care plan.
Mental health conditions are common among the elderly. Around 2 in 5 older people living in care homes have depression, and an estimated 4 out of 5 people in care homes live with dementia or severe memory problems.
Despite the prevalence of these conditions, the standard says that they are often not recognised, diagnosed or treated.
Mr McNamara from the Alzheimer's Society comments: "We welcome the quality standard's focus on more flexible care and support through personalised care plans.
"This is because everyone who has dementia has a different journey, and given the nature of the condition, it means that a one-size-fits-all approach in terms of care homes is no longer acceptable for residents."
NICE says that early assessment and access to appropriate healthcare services can be achieved by recognising and recording the symptoms and signs of mental health conditions by staff who are aware of the role of the GP in the route to referral.
Mr Lowe from Age UK stresses the importance of the role GPs and healthcare staff when it comes to ensuring continuity of care.
He says: "It is particularly important that what's known about the person through their relationship with their GP is passed on and incorporated into a person's care plan at the care homes.
"Visiting or befriending schemes are ways which can help somebody through the transition through from their own home to hospital and acute care.
"Local schemes are present that concentrate on this, but there are currently no national schemes, which is something that we would like to see more widely used."
Access to healthcare services
Older people often have a number of coexisting health conditions that are typically greater and more complex than those living the community.
These needs can affect their wellbeing if they are not addressed, so the quality standard also includes a statement that calls for older people in care homes to have access to the full range of healthcare services when they need them.
NICE says that it is important that care homes have good links with GPs and referral arrangements so that services can be accessed easily and without delay when they are needed.
This is essential to prevent any unmet healthcare needs from having an impact on mental wellbeing.
Mr Lowe comments: "We have seen how difficult it can be for people in care homes to access healthcare services from chiropody, to opticians and dentists. But often they even have problems accessing GPs, which really shouldn't be the case."
A guide for care home managers on GP services is one several resources that the quality standard links to, to help achieve its statements.
For quick access to all NICE has to recommend on this topic, visit the NICE pathway on mental wellbeing and older people.