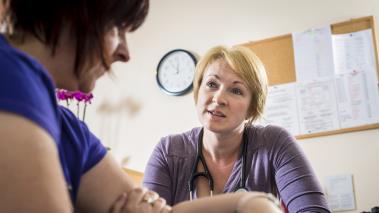 The NHS faces a challenging a period of change. An ageing population with long-term conditions has led to increased demands for healthcare. And rising costs, against a backdrop of constrained resources means that healthcare professionals are increasingly being required to do more, with less.
Health inequalities also persist, ­meaning those in deprived parts of the country are likely to have poorer health than their richer counterparts.
Last year the NHS published a paper called the Five Year Forward View that seeks to address many these problems. The paper outlines how NHS services must change to move towards care models that will best suit healthcare requirements in the future.
It argues that England is too diverse for a 'one size fits all' care model. As such local health communities should be supported to choose from a small number of new and innovative care models.
Blueprints for revamped care
To help put these models into practice, the NHS invited individual organisations and partnerships to be NHS vanguards.
Each vanguard will take the lead on new care models that will act as a blueprint for a revamped NHS.
Through piloting the models, the vanguards hope to both improve services in their local areas and to develop models that can be successfully replicated elsewhere. The paper puts forward seven models of care, namely:
Multi-specialty community providers (MCP)
Primary and acute care systems
Enhanced health in care homes
Urgent and emergency care networks
Viable smaller hospitals
Specialised care
Modern maternity services
More than 260 organisations and health and social care partnerships applied for the role, and in March 2015, 29 organisations were chosen to be the first wave of vanguards.
West Wakefield MCP – the story so far
West Wakefield Health and Wellbeing is among the first organisations to be given vanguard status. The organisation is currently trialling the MPC approach, under which GP practices can expand to deliver a wider range of services.
"Our mission is to find opportunities for health improvement for the people in our community," says Sarah Fatchett, Strategic Lead at West Wakefield.
"We have a population of 64,000 across our GP Federation, West Wakefield Health and Wellbeing Ltd and the vanguards scheme provides us with the chance to embrace the next step in primary care. It lets us get into community redesign and work on a larger population of 152,000."
West Wakefield's vision is to realise a fully integrated, expanded, digital model of primary care. The system will integrate digital technology to help provide 7-day service for its population, and improve integration of health, pharmacy and community workers.
"Integration of care has been talked about for a number of years but has been difficult to achieve," says Mrs Fatchett.
"So our mission is focussed on smaller steps to create big leaps. We want to be accountable for the population's health now and in the future.
"Technology is key to the success our model. We're using it to help people have new ways of accessing services, so that they are well for longer.
"We want to connect people that have conditions such as dementia, to fully integrated, multi-disciplinary care teams so that they patients have 24/7 access to care."
'Disruptive prevention'
The vast majority of early deaths in England are a result of five most common killers – cancer, heart disease, stroke, respiratory and liver disease. However, thousands of these deaths could be avoided through changes to lifestyle, early diagnosis and better treatment.
West Wakefield believes that demands on primary care could be reduced through tackling avoidable illness.
"A major strand of our work is what we've labelled 'disruptive prevention'," Mrs Fatchett adds.
"We feel we should be developing a much more preventative step from primary care. This translates into earlier engagement with the population.
"We're targeting primary schools, and we're trying to get new models of care for children of 9 or 10 years old, so that we will not be inheriting a population with ill-health."
"We're also redesigning the roles of the GP so that they can be released to do more in the community."
West Wakefield was fortunate in obtaining resources through winning the Prime Ministers Challenge Fund for Primary Care.
"It is important to invest in clinical leadership," she says. "There's a lot of waste currently in the system. So it is crucial that clinical leaders get out into the field and observe their communities first-hand so that they can make pragmatic solutions about where best to target resources."
Applying NICE products to obtain consistency of care
Innovation means forging new paths and breaking away from current practice. Yet, West Wakefield is keen to ensure this is balanced and underpinned by NICE guidance and standards to ensure consistency and excellence of care.
"I think there should be a real call for consistent quality of care in the community. It would be fantastic if we could talk about our approach as being like an 'operating manual' for a digital, integrated model of primary care.
"It's important for us to set a clear pathway, underpinned by NICE guidance and standards that's evidence-based, has clarity, and highlights interventions that could genuinely work across the pathway of care.
"We look forward to working with NICE to develop new models of care that takes into account and is informed by its products."
More information on NICE and the NHS vanguards will be available at the NICE annual conference held in Liverpool on 13-14 October.
Representatives from the vanguards will discuss progress made so far and the challenges ahead at 10.10am in the session 'Vanguards: Delivering the 5 Year Forward View' on day 2 of the conference.