Organisation:
Maynard Sinclair Ward, Ulster Hospital, South Eastern Health and Social Care Trust
Published date:
March 2020
In 2018-19 we undertook a quality improvement (QI) project to implement the NG9 recommendations for Bronchiolitis in children: diagnosis and management.
NG9 provides recommendations on the diagnosis and management of bronchiolitis, admission criteria and discharge criteria. Implementing these recommendations involved considerable change to our medical and nursing practice and a shift in culture from the traditional way of caring for children with bronchiolitis. Clinical interventions eg.routine suction, bloods, x-rays, bronchodilators and other medications are no longer advised. Care is to be focussed on supportive measures with minimal interventions.
Bronchiolitis strongly contributes to winter pressures in our service and throughout the region. We have a vision to ensure that care provided is evidence based and wished to reduce unnecessary distress caused to children/families by inappropriate interventions or admission to hospital.
This example was Runner Up in the 2020 NICE Shared Learning Awards.
Guidance the shared learning relates to:
Does the example relate to a general implementation of all NICE guidance?
No
Does the example relate to a specific implementation of a specific piece of NICE guidance?
Yes
---
Example
Aims and objectives
A number of us attended a local conference about bronchiolitis which brought NG9 to our attention. NG9 gives guidance on diagnosing bronchiolitis, risk factors, clear admission criteria, guidance on interventions/treatments which would have traditionally been used but research now suggests are ineffective, red flag advice for parents, and advice regarding when to discharge children.
We process mapped the patient journey and chose to target 3 clinical areas: emergency department, children's short stay and Maynard Sinclair ward (children's medical ward). We gathered a multidisciplinary team, covering different levels of experience and all 3 clinical areas.
Our project focused on all guidance/ recommendations within NG9 but for data collection purposes we set the following aims for infants under 1 year old with bronchiolitis:
To increase staff adherence to the guideline by 50% by March 2019
To decrease unnecessary interventions by 50% by March 2019
We used 2 methods of data collection throughout the project.
A chart audit looking at the care provided to babies with bronchiolitis, and what interventions were undertaken; evaluating these interventions against NG9 recommendations.
An online staff survey exploring staff confidence, knowledge of the different sections of the guideline, and questions around how they would care for infants with bronchiolitis.
Data was also collated through clinical coding retrospectively exploring admission rate and length of stay.
---
Reasons for implementing your project
Bronchiolitis impacts upon acute paediatric services immensely during winter months. It is a season that fills nursing staff and medical staff with trepidation, and impacts strongly upon bed availability and patient flow within our ward. Our medical ward consists of 20 beds, however often due to winter pressures this overflows into the surgical ward impacting upon their service provision.
Following a regional conference were the NICE guidance was presented and reasons behind changes explained, we recognised by implementing these recommendations we could impact upon the care we provided and potentially decrease the distress caused to babies by interventions no longer recommended.
Traditional practice in all 3 clinical areas prior to the changes made involved more babies being admitted to the ward and an increased length of stay in hospital; often weaning off oxygen. NICE recommendations enabled us to have clearer guidance around admission criteria and what red flag advice to give to parents; promoting more babies to be cared for at home.
NG9 advised administering oxygen if oxygen saturations are persistently below 92%. Historically babies would have remained on oxygen for fleeting desaturations for a number of days.
Traditional nursing practice involved routine nebulisation and suction of every baby before every feed while they were in hospital, often followed by a nasogastric feed. When we simulated out these practices, nursing time equated to 45minutes every 4 hours per baby.
Before the project, babies would have been treated with various medications such as hypertonic saline, salbutamol, ipratropium bromide and corticosteroids. None of these medications are recommended by NICE.
We performed a chart audit on a selection of babies admitted winter 2017/2018 with bronchiolitis and found that 89% of babies were given a medication or an intervention was undertaken which was not in line with NICE NG9 recommendations.
We recognised opportunities to improve the overall efficiency of our service and provision of care for babies with bronchiolitis, including bed availability by improved patient flow (by utilising the admission and discharge criteria from NG9) and less nursing time spent on unnecessary interventions. We also recognised that less interventions and medications would lead to further cost savings.
---
How did you implement the project
Our project started by process mapping the patient journey from admission to discharge, and choosing our target areas of ED, Short stay unit and inpatient ward. We gathered a team of nursing and medical volunteers and started to plan our project while completing a quality improvement programme ran by our healthcare trust. Throughout our project we used quality improvement methodology to help us implement and evaluate the changes we made.
We completed a staff survey throughout all areas, highlighting NG9 and asking staff for change ideas.
We developed 2 methods of data collection- staff survey (exploring knowledge of each part of the guideline) and a chart audit (examining actual care provided). A baseline was completed for both, and repeated with each PDSA cycle from which run charts were completed.
We developed a driver diagram detailing our measures and change ideas.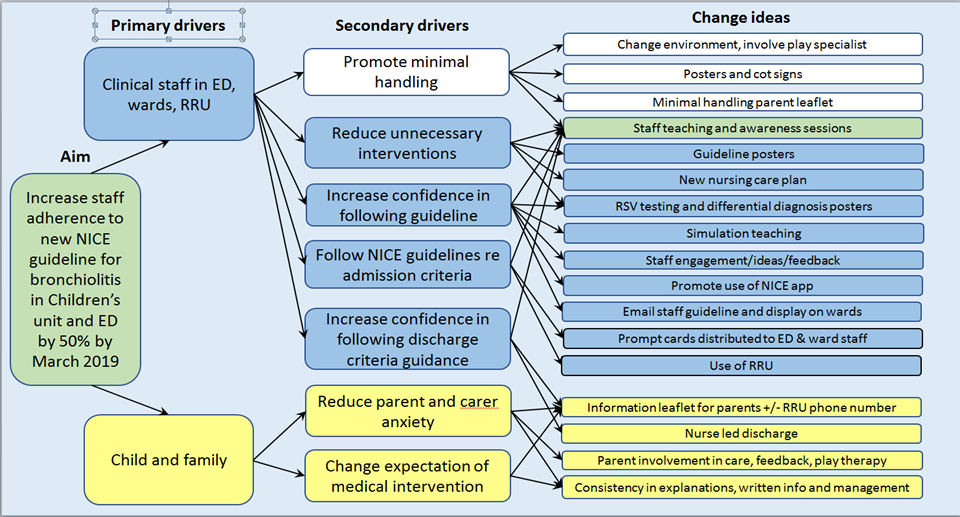 We completed 7 PDSA cycles
Guideline placed on noticeboard, & emailed guideline to all staff in all areas
Posters developed– summary poster, differential diagnosis, RSV testing information
Teaching sessions – group and 1:1
Prompt reminder cards – admission criteria, feeding requirements, risk factors
Simulation teaching – medical and nursing
New poster Stop/Think/do – to reinforce!
Minimal handling parent leaflet & cot poster cards.
Our PDSA cycle changes responded to any challenges we encountered. For example our first staff survey highlighted some confusion around diagnosis of bronchiolitis so we developed specific posters targeting differential diagnosis and commenced bacteriology rapid RSV testing. Medical staff rotation correlated to an increase in admissions so more teaching was undertaken. Parents often expect that medical interventions will take place, so a cycle focussed on increasing knowledge of minimal handling and using reminders attached to cots for parents promoting minimal handling.
The changes we were making involved a cultural shift for nurses and medical staff so we found that continuous reinforcement by a variety of means helped mind sets change.
Our project only incurred costs around printing of posters and cards, which was undertaken within ward colour printing budgets.
---
Key findings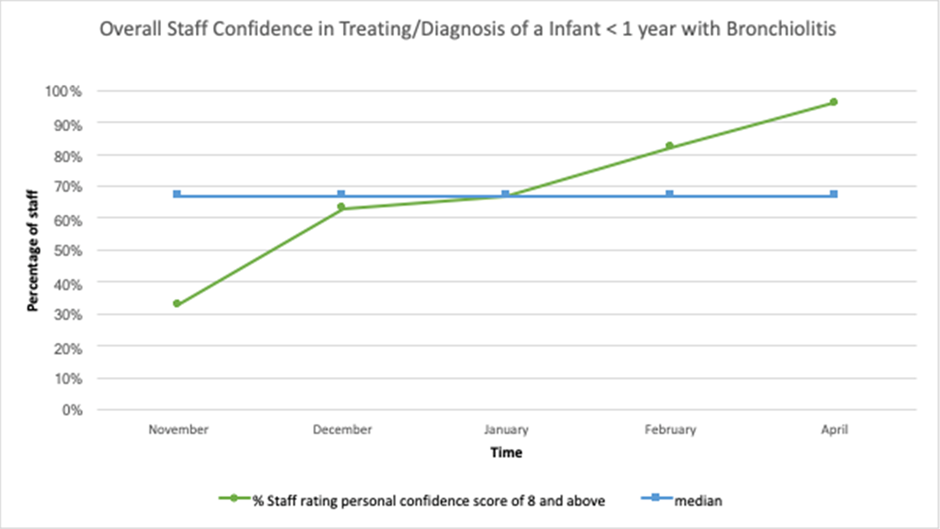 All our initial aims were achieved and greatly exceeded.
During the winter period 2017-18 89% of babies with bronchiolitis received unnecessary clinical interventions. By January 2019 this was reduced to 0%. Staff survey of what care they said they would provide, matched actual practice evaluated in the audit.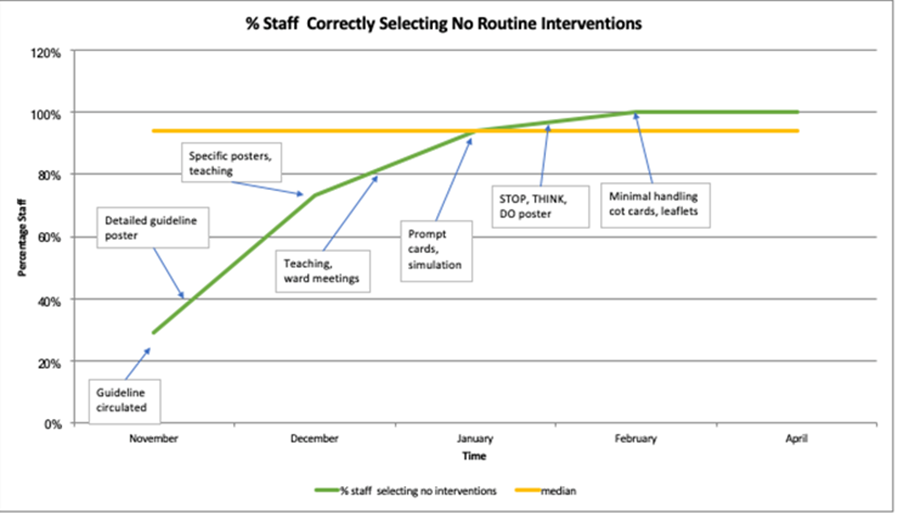 Staff confidence caring for babies with bronchiolitis increased from 33% to 96%. - including ED adult nursing staff.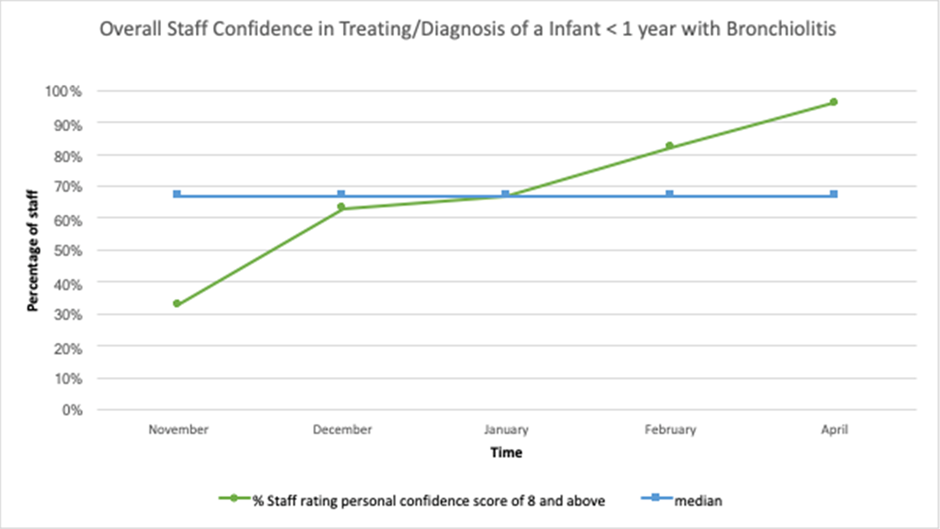 Staff knowledge of the guidance overall increased.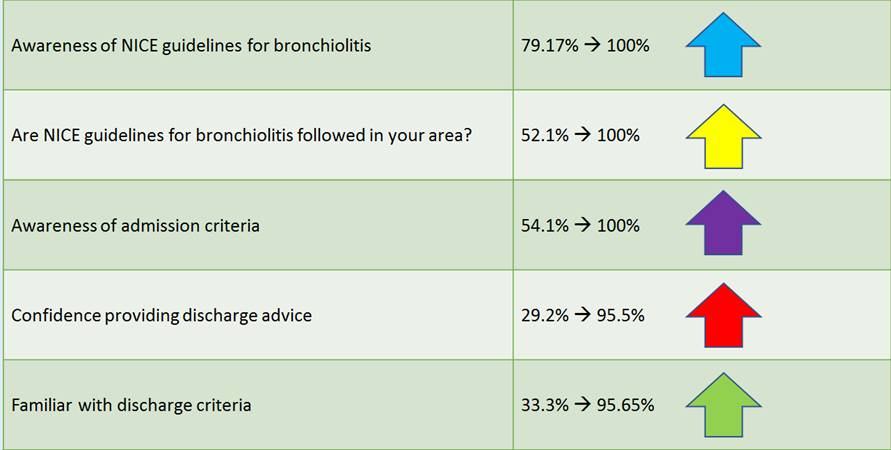 The mean average Length of stay of a baby with bronchiolitis decreased from 2.0days to 1.5days
The % of babies admitted to the inpatient ward decreased from 43.8% to 32% with an estimated 43 babies less admitted this winter leading to a financial saving on bed days of over £70000. We had further financial savings through less medication and equipment used as a result of decreased interventions. Nursing staff have tangibly recognised the time saved with not performing routine suction and nebuliser therapy on every baby every feed time. This has enabled nursing staff to have more actual time to provide care.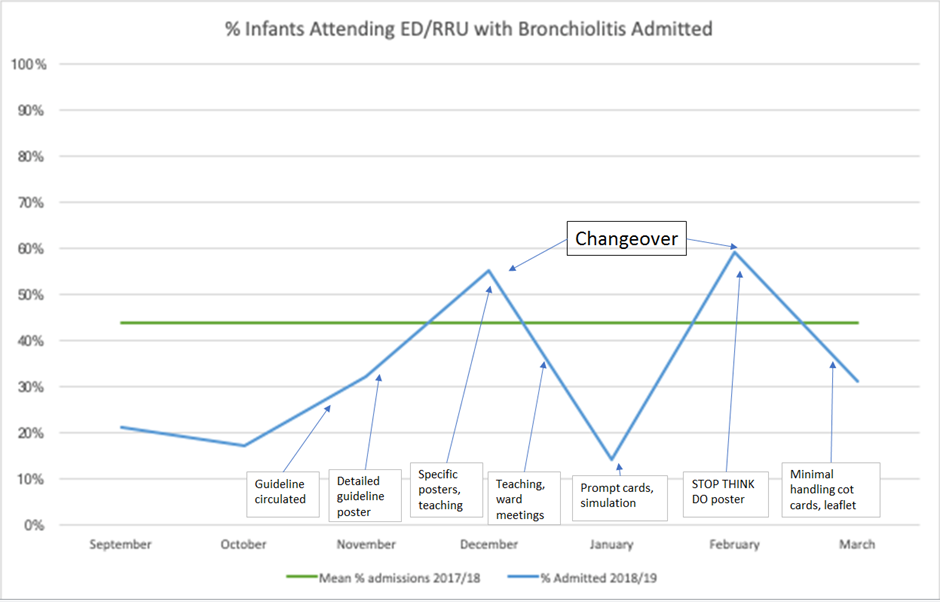 Patient flow/bed availability has been improved leading to no unnecessary patient transfers and associated costs.
Our results were shared across all our teams, at an SQE event and presented at Ulster Paediatric Society conference with publication as an abstract; our posters have been shared for regional use.
---
Key learning points
Our team has learned and used quality improvement methodology to bring about positive changes in our practice for our patients. We have found this methodology invaluable in helping guide us on how to implement change in a consistent and sustained manner.
Learning from the project has continued this winter, and at present data collection has shown that NICE guidelines have continued to be followed. In order to ensure changes are fully embedded we need to recruit a larger team within each of the areas, especially the emergency department.
Partnerships have been forged between the emergency department and children's unit, which we are continuing to utilise and bring about further changes in other areas of practice in a more unified way. Within the inpatient ward we have set up regular teaching for nursing/medical students and new staff nurses. We have gained feedback from parent service users, and are co-producing a new bronchiolitis leaflet.
Within our project as bronchiolitis season started and peaked quickly we had to ensure that we consistently reinforced the new guidelines in a variety of ways. We found having nursing staff and medical staff on the project team with different levels of roles and experience ranging including consultant, ward sister, deputy sister, registered nurses from day duty and night duty; benefitted in helping to cascade information effectively. Our project isn't over yet, as we would like to cascade information further to other emergency departments within our trust and reach out to GP practices with a view to preventing unnecessary referral to ED departments.
Even though our project felt it incorporated lots of changes and bronchiolitis arrived quickly, we were surprised at how quickly we were able to meet and exceed our aims with perseverance and determination.
Authors:
Joanne McClune Ward Sister (on behalf of a team – see below)
Laura McConaghy Paediatric Registrar ST7
Alison Smyth Deputy Sister Maynard Sinclair
Helen Hamilton Registered Nurse B5 Maynard Sinclair
Thomas Toner Deputy Sister ED (now employed in district nursing)
Barbara Todd Registered Nurse B5 Paediatric Rapid Response Unit
Dr Bernadette O'Connor Assoc Clinical Director for Paediatrics
---
Organisation:
Maynard Sinclair Ward, Ulster Hospital, South Eastern Health and Social Care Trust
Email:
joanne.mcclune@setrust.hscni.net
---
Is the example industry-sponsored in any way?
No