You can now review and comment on this draft guideline.
The consultation closes on 23 June 2017 at 5pm
How to comment
1. Register your organisation
Your organisation needs to be registered as a stakeholder before we can accept comments.
Not eligible? Contact the stakeholder organisation that most closely represents your interests and pass your comments to them.
2. Read the consultation documents
Visual summary of the recommendations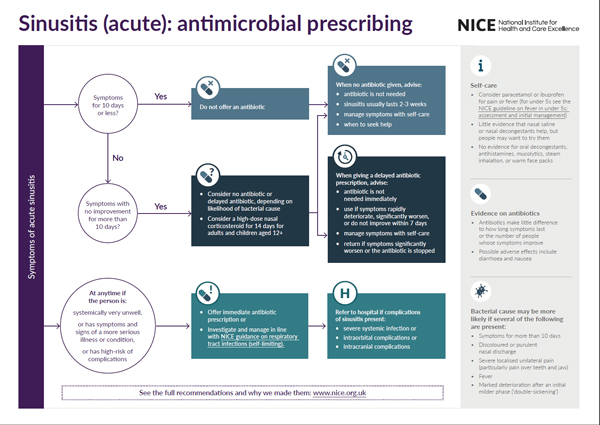 Our recommendations
The evidence
Other information about the consultation
3. Add your comments
You must use this comments form.
You must declare any links with, or funding from, the tobacco industry
If you share similar views with another organisation, send a joint response.
Specific questions:
We will be producing a visual summary of recommendations for each guideline topic and would like your comments.

Is this formal useful for health professionals and the public?
Is there anything you would improve about it?
Is the summary too simple? Is more detailed information needed from the guideline to safely follow the recommendations?
Any other general comments about the visual summary and the guideline (content and format)

For the guideline:

There is a recommendation for considering high-dose nasal corticosteroids – is this current practice and if not, do you have any concerns about the recommendation?
Are there any recommendations that will be a significant change to practice or will be difficult to implement? If so, please give reasons why.
What are the key issues or learning points for professional groups?
Make sure you consider:
The areas that will have the biggest impact on practice and be challenging to implement
How to help users overcome challenges
Developing NICE guidelines: how to get involved suggests some other areas to comment on.
4. Email the form to us
Email: infections@nice.org.uk
Deadline: 23 June 2017 5pm
This page was last updated: 26 May 2017