Organisation:
Velindre NHS Trust
Published date:
January 2018
This submission sets out the journey we took to consider whether graphic design in medical palliative care settings could be a powerful and effective way of addressing practical, psychological, social and spiritual issues that face people at the end of their lives. The 'Talk CPR' project in Wales has multiple facets, including work in 2017 with graphic design lecturers and students from Falmouth University, who have their own End-of-life project called MOTH. This is an 'ethnographical' approach to research, more details of which can be found here.
The project lead met art school lecturers and students to describe the issue of resuscitation in palliative settings and tasked them with creating visual and graphic stimuli to encourage frank discussion about future wishes surrounding death, dying and matters such as wishes around cardiopulmonary resuscitation.
This resulted in the students creating thought-provoking artwork that looked at dying from a very different angle, compared to the more typical mainstream healthcare approaches of blue background patient information leaflets. Students produced videos, images and photographs.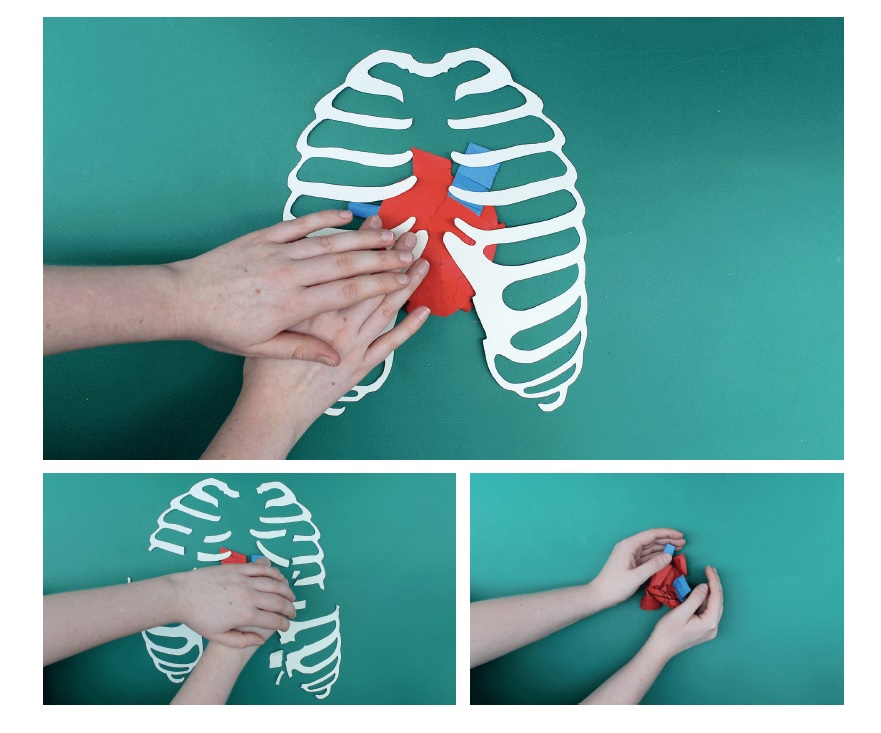 Guidance the shared learning relates to:
Does the example relate to a general implementation of all NICE guidance?
No
Does the example relate to a specific implementation of a specific piece of NICE guidance?
Yes
---
Example
Aims and objectives
Do Not Attempt Cardiopulmonary Resuscitation (DNACPR) discussions and forms are nearly always initiated by doctors, and they can be a source of distress, harm and complaints from patients and their loved-ones.
In 2015, a national campaign in Wales called 'Sharing and Involving- TalkCPR', sought to put patients at the centre of discussions. As part of this endeavour, the TalkCPR project group led by Dr Mark Taubert, met with the Falmouth University Moth group, to discuss graphic design initiatives for patients to trigger patient led discussions on DNACPR.
The brief was for the artwork to bring about reflection and encourage individuals to ask the question: "Would I actually want CPR in the last years of my life?" Furthermore, in line with NICE Guidelines for End of Life Care in adults (QS13), NG31 and NG61 for end of life care for children, infants and young people with life limiting conditions, it sought to encourage patients and healthcare professionals to approach the advance care planning topic without too much trepidation, and without fear of upsetting the person they were talking to.
---
Reasons for implementing your project
NICE Quality Standards Guideline QS13 states: 'People approaching the end of life and their families and carers are communicated with, and offered information, in an accessible and sensitive way in response to their needs and preferences'. Furthermore it states: 'People in the last days of life should be identified in a timely way and have their care coordinated and delivered in accordance with their personalised care plan'.
Advance care planning and DNACPR discussions often form part of such a personalised care plan, but broaching the topic can feel awkward for both healthcare professionals and patients. In 2016, as part of this project, the project lead Dr Taubert wrote a Guardian article about the realities of CPR in palliative illness and how fictional and popular media portrayals do not convey reality on hospital and hospice wards. Healthcare settings and the world of art do not often have the opportunity to meet. In fact such collaborations may be seen by some as wasteful and unnecessary.
However, the art and medicine can indeed share and combine in a productive way, as shown in a Wellcome Collection exhibition entitled "Can Graphic Design Save Your Life? https://wellcomecollection.org/exhibitions/WZwh4ioAAJ3usf86
The Moth/TalkCPR art collaboration sought to design graphic design methods to capture peoples' attention on the topic of CPR in palliative illness, and encourage discussion with healthcare providers, thus turning the table on the usual doctor-patient power dynamic.
---
How did you implement the project
Several meetings were held (both with teams in Cardiff & Falmouth) to plan the project and to look at possible areas where students' visual art projects could be displayed. Palliative care patients spoke to the project lead Dr Taubert about their views and expectations, and what they would find useful from a graphic design on the topic of DNACPR.
Falmouth University students then met with the project lead, who outlined the challenges in frontline medicine, and they were able to ask questions and also highlight their own healthcare experiences. One of the challenges was to get art students to be able to see the world from a palliative care patients point of view, and so they were invited to watch videos filmed with patients/carers at Velindre Cancer Centre, describing this complex area of care.
Graphic designs were produced over a half year period, they were published on the TalkCPR website and on the European Association for Palliative Care's blog site, including showing video art on YouTube. Posters were produced and exhibited at an international conference, where feedback was sought. There was no cost to this project, and lecturers and students gave their time freely. A further plan was set out to display TalkCPR artworks at a mayor UK healthcare conference and in several hospitals.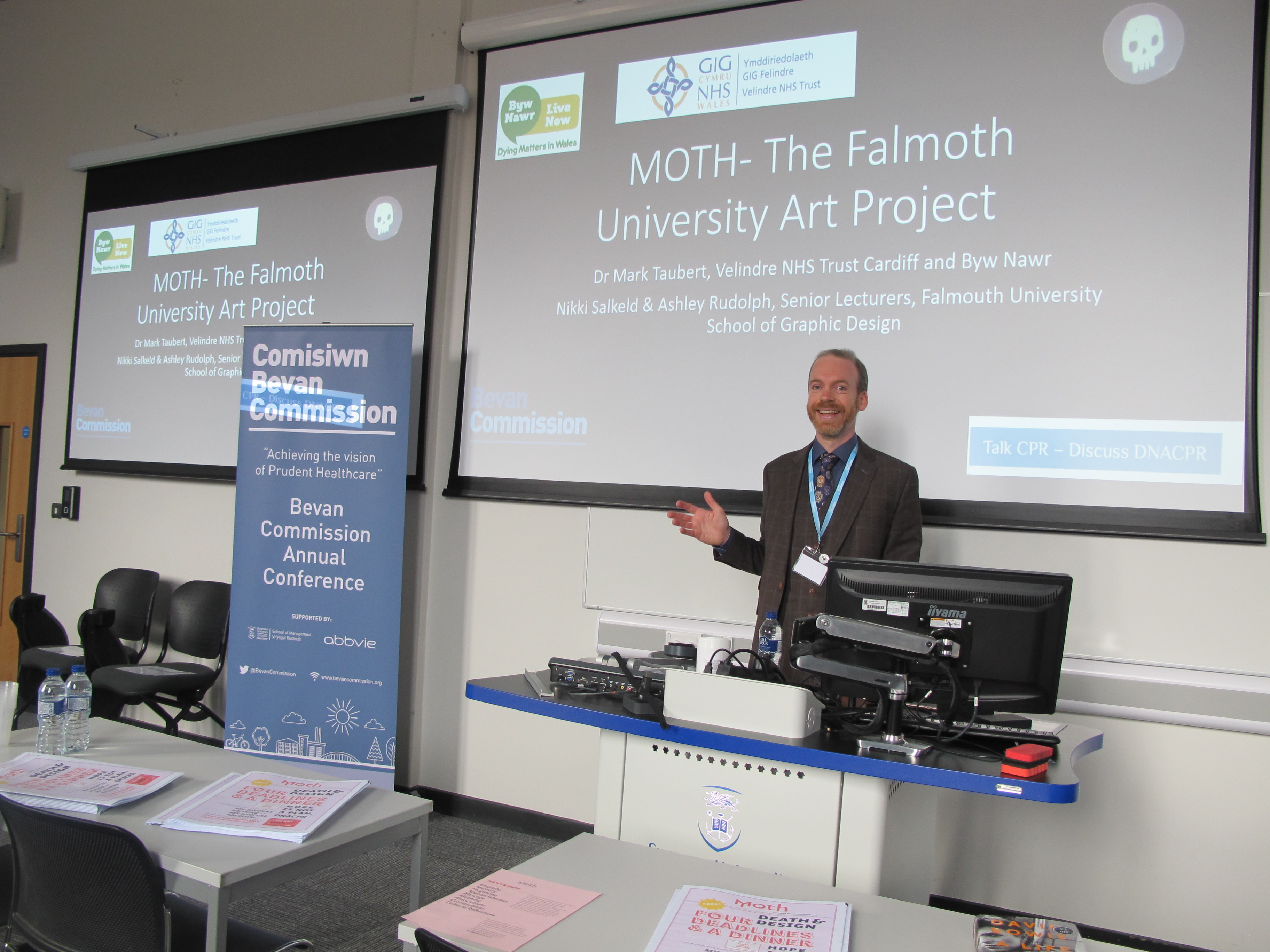 ---
Key findings
The students produced several projects and graphic designs during 2017, examples of which are shared here: https://eapcnet.wordpress.com/2017/11/06/room-for-some-art-addressing-the-difficult-topics-of-death-dying-and-resuscitation/
These examples include:
The Plan (a self-directed journal): James Cook, Joe Arnold, Hannah Hosegood, Sam Baker.
Let's Talk CPR (a campaign video) : Alicia Bray-Whitworth, Jemma Edwardes, Sarah Lebaigue.
The Conversations Project (notes on a wall): Theo Hallas.
Little questions, big conversations (interactive poster campaign): Florentino Alameda Monteiro, Poppy Andruskevicius, Adele Bright, Ellie Woodman.
#talkdeath (a disruptive/interruptive campaign taking something very private and putting it in a public space): Martha Holmes, Lucy Scholes, Theo Penrice.
The projects were exhibited in September 2017, at an international health and social care conference which took place in Swansea, Wales, bringing together the Welsh National Health Service, academia and industry.
The Bevan Commission annual conference event showcased the progress of Prudent Healthcare in Wales and provided a great opportunity to discuss how individuals and stakeholders can promote and deliver these Welsh principles – in very different, creative ways, including the Moth/TalkCPR collaboration.
We wanted to avoid isolating the audience with the graphic reality of what CPR can do to a fragile, terminally ill patient. We decided to tell our story using stop-frame animation. This gave us creative license to talk frankly about the issues. Using the rhythm of a heart beat with a calm, authoritative narration of the facts and statistics. We chose not to include any emotive background music, wanting to create space for a logical rational thought process to take place, making it easier to talk more openly about our hopes for our last moments.
The project was promoted at the Bevan Commission annual conference through a session chaired by Professor John Wyn Owen, professorial fellow of the Royal Society for Public Health. He introduced the topic of art and medicine, explaining that these were once considered to be unrelatable.
The artwork was on display for all conference delegates to view and created much discussion, including patient advocates who spoke very highly of it. Feedback was collected. The supporting material has some photographs of the event. Feedback from one individual stated that such artwork can and should be an agent for change. The graphic design projects displayed were judged by a patient representative to be "Very effective and useful". Another viewer fed back that this was a very useful visual way to aid DNACPR discussions.
---
Key learning points
Further exhibitions in hospitals are planned for 2018 and 2019. The designs and posters have been used in medical students and junior doctor teaching sessions in Velindre Cancer Centre and in Llandough hospital. One of the Moth/TalkCPR videos has been disseminated via Youtube link on Twitter and has received very positive feedback. Graphic design is everywhere around us, casting its influence and shaping our thoughts and views. But those working in healthcare or experiencing illness often do not have the opportunity to change or influence this art. The Moth/TalkCPR project sought to change this shortfall, whilst also acknowledging that it is difficult to 'measure the impact of art', given how each of us perceives and processes such things very differently.
The relationship between medicine, death and graphic design helped shape this project and we wanted to explore how art and graphic design can be used to promote and forward NICE guidance on end-of-life care, including the often used advice that we need to talk more about our dying moments.
We hope this project inspires others to do the same, and we further hope that the images and videos speak for themselves. Please watch this video, which we are showing to patients and which is available on YouTube: https://youtu.be/ZEfXO9UoAgE
---
Job:
Clinical Director for Palliative Medicine
Organisation:
Velindre NHS Trust
Email:
Mark.Taubert@wales.nhs.uk
---
Is the example industry-sponsored in any way?
No