This resource helps shape high quality adult social care services and improve the well being of adults using social care.
Aimed at commissioners, it brings together NICE quality standards and guidelines in an easy to use format, mapped against Care Quality Commission key lines of enquiry*. It may also be useful to provider organisations and people who fund their own care.
It can help you to:
find quality statements (from our quality standards)
look at recommendations (from our managing medicines guidelines)
start conversations with provider colleagues to agree ways to improve quality of care in your area
agree ways to measure quality improvements.
* New key lines of enquiry to be used from November 2017.
NICE in the adult social care sector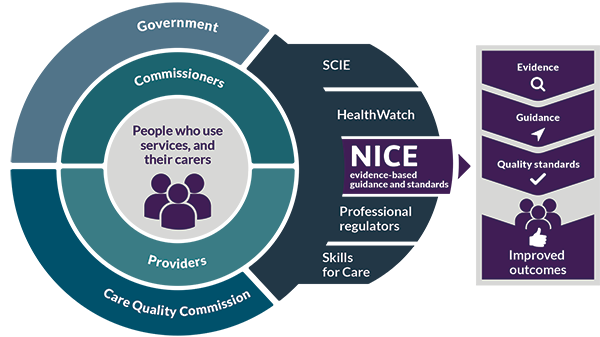 How would the resource help you?
You can adapt the content to fit your local work, such as in contract specifications, quality dashboards or self-assessment tools.
The resource is an independent source of guidance on practical ways to improve quality. Our guidance is drawn from current evidence-based research. This means you can be confident that it's based on the best available evidence.
Most of the improvements in the resource rely on partnership working between:
local authority commissioners
health commissioners
provider organisations.
We have included examples to show that great things can be achieved where people work in partnership to find a solution.
How was it developed?
The resource is part of the shared committment to Adult social care: Quality matters.
We co-produced this tool with representatives from:
local authority commissioners
provider organisations
The Care Quality Commission (CQC)
See full list of contributors
| | | |
| --- | --- | --- |
| Name | Job Title | Organisation |
| Jane Bowie | Director Joint Commissioning | Buckinghamshire County Council |
| Peter Chapman | Head of Safeguarding Adults | East Lancashire CCG |
| Terry Clark | Head of Social Care Commissioning | Sutton Council |
| Karen Culshaw | Policy Manager, Adult Social Care Policy Team | Care Quality Commission (CQC) |
| Michelle Greenwood | Operational Manager | Warrington Borough Council |
| Dominique Kent | Chief Operating Officer | The Good Care Group |
| Rosie Mainwaring | Locality Manager | Skills for Care |
| Angela McNamara | Programme Manager Integrated Commissioning | Liverpool City Region Combined Authority |
| Sarbjit Rai | Contacts Manager, Strategic Commissioning and Community | London Borough of Newham |
| Cheryl Reynolds | Joint Commissioner | London Borough of Lewisham |
| Simon Spoerer | Design Team Leader, Adult Social Care Policy Team | Care Quality Commission (CQC) |
| Jim Thomas | Programme Head, Workforce Innovation | Skills for Care |
| Mandy Thorn | Vice Chair | National Care Association |
| Adele Thornburn | Nursing and Quality Manager | Lancashire and South Cumbria STP |
| Frank Ursell | Chief Executive Officer | Registered Nursing Home Association |
| Michael Varrow | NICE quality standard advisory committee member | N/A |
| Miranda Wixon | Chair | Ceretas |
| Max Wurr | Director of Policy and Communications | City and County Healthcare Group |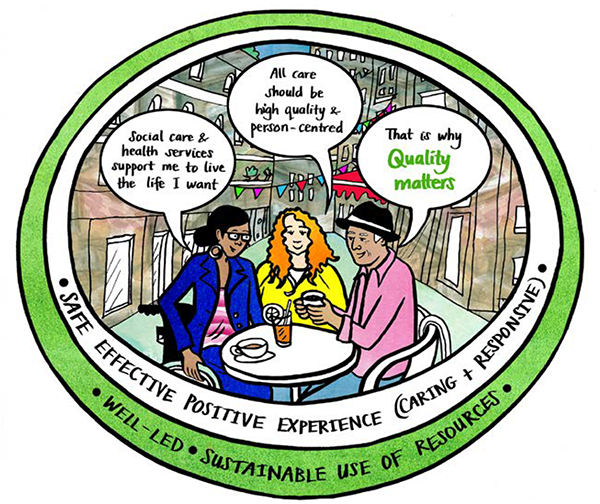 ---
Case studies: how our guidance has helped improve quality of care
More information
Subscribe for your monthly ebulletin containing information about:
new social care guidelines and standards

opportunities to comment on draft guidance

how you can shape future topics

how our guidance is being used in adult and children's social care.