Bringing together the right people to provide insight to support your market access planning.
We work with you to understand the market access insights you're looking for and identify the most appropriate people to engage with. Through careful planning and organisation, we facilitate discussions in a safe harbour environment.
Engagement meetings carry a fee-for-service, not-for-profit charge.



All attendees have an equal say

Access to key healthcare system leaders

Early insight into the healthcare system's needs
Safe harbour environment
The safe harbour environment helps to facilitate confidential, honest and open discussions. It creates a safe setting to bounce ideas between meeting participants, allowing people to think beyond their own area of interest and work collaboratively.

When you take part in a safe harbour meeting you will benefit from:
Signed NICE confidentiality agreements for all non-company participants (where not already covered by existing confidentiality arrangements in their own organisations).

Sharing of relevant declarations of interests for each individual engaging in safe harbour discussions.

Assurance that discussions are non-attributable, non-binding and not transmissible to a third party.
Meetings are tailored to your requirements
Whether you are launching a single product, have multiple products in development, or are exploring wider market access strategies, we can bring the most appropriate people to the table to help you.
Our engagement meetings can help to inform your market access strategy. Discussions with relevant stakeholders can help you:
Based on your enquiry we tailor the meeting to make sure the right people are involved in discussions: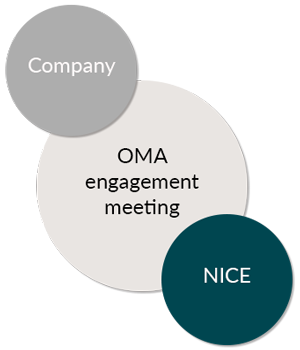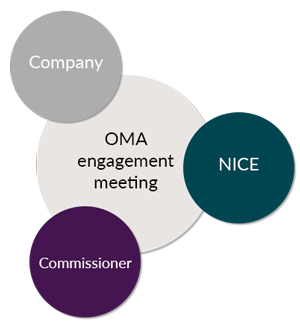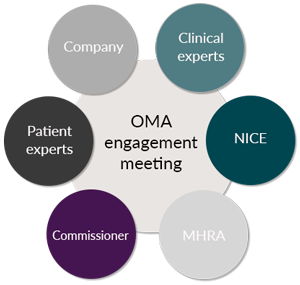 ---
Early Access to Medicines Scheme (EAMS) meetings
We also facilitate EAMS meetings for pharmaceutical products granted a Promising Innovative Medicines (PIMs) designation by the MHRA.
Discussions with NICE and NHS England can help to ensure you are ready for NHS patient access and subsequent NICE appraisal.
An EAMS meeting can:
Provide expert feedback on your data collection plans for the EAMS period from the perspectives of NICE and NHS England.

Help you to understand whether NHS England can accommodate your plans within the timescale available.
Provide insights into flexible pricing options and managed access approaches that you may want to consider for your technology.
---
What's involved in setting up a meeting?
An initial discussion to understand your requirements and work out the most appropriate meeting for you. If multiple stakeholders are needed, we make every effort to secure their input: providing coordination and making people aware of what's required to allow contributions in a safe harbour environment.


We develop the scope of the meeting and then consult with you to finalise all aspects: structure, content, attendance and logistics.


We ensure that all attendees comply with our safe harbour principles.


Fees are agreed with you and any relevant stakeholders. To make the process of invoicing and payment as easy as possible you pay the fees to us and we ensure all stakeholders are paid.


We facilitate the meeting, allowing a

broad, open and free-flowing discussion within the safe harbour environment.