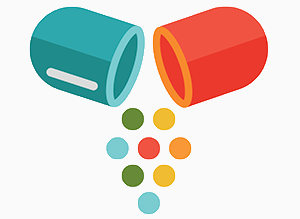 Our guidance and advice to help manage common infections and tackle antimicrobial resistance.
We've been asked by the Department of Health and Social Care to develop evidence-based, clinical syndrome specific guidance and advice to help slow the development of antimicrobial resistances.
Existing Public Health England guidance on management and treatment of common infections will be replaced over the next few years by new NICE/PHE antimicrobial prescribing guidelines.
Guidance
Our guidelines offer evidence-based antimicrobial prescribing information for all care settings.
They focus on bacterial infections and appropriate antibiotic use. Each guideline topic features a visual summary of the antimicrobial prescribing recommendations, a guideline and an evidence review.
The visual summary is an overview of the guideline recommendations. It includes a prescribing table to support shared antimicrobial prescribing decisions in line with a health professional's own clinical judgement.
An example of the draft visual summary for our sinusitis guideline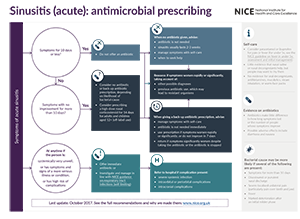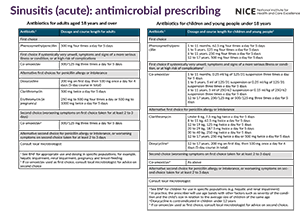 ---
Published: September 2019
Published: September 2019
Published: September 2019
---
---
---
---
Summary of antimicrobial prescribing guidance - managing common infections
NICE and Public Health England (PHE) have brought together our information on managing common infections into a summary table. We will add a summary of new NICE guidance as it's published. We also indicate where new guidance is in development.
The evidence and rationales underpinning the information in the table can be accessed by clicking on the hyperlinks or the visual summary icons in the document.
The processes used by each organisation to develop their guidance differ. The process for developing the NICE guidelines can be found in the interim process guide. The process for developing the PHE guidance is briefly outlined on the PHE website in the PHE context, references and rationales document with further information available upon request.
This is the first time both sets of national guidance have been brought together and we would welcome your feedback. Please email infections@nice.org.uk if you have any feedback to help improve future versions.
Last updated March 2020
Topics added to the table:
acute diverticulitis
impetigo (replaces PHE guidance from Nov 2017)
leg ulcer infection (replaces PHE guidance from Feb 2019).
We've updated the content for these topics:
acute sore throat: wording added about course length of phenoxymethylpenicillin
lower urinary tract infection: wording added about people with symptoms of pyelonephritis or a complicated UTI
acute pyelonephritis: wording added about avoiding antibiotics that don't achieve adequate levels in renal tissue
Lyme disease: wording on prophylaxis removed.
---
Advice
Our antimicrobial evidence summaries provide commissioners, providers and health professionals with a summary of the best available evidence for antimicrobials.
---
In development
We are currently developing guideline recommendations on the following topics:
---
---
---
Antimicrobial news at NICE