We provide expert independent advice to improve the quality of health economics models.
PRIMA is a comprehensive peer review service to help developers of pharmaceuticals, medical devices, diagnostics and public health interventions ensure the quality of their model structure, computation, coding, usability and transparency.
What does PRIMA offer?
independent expert advice on the robustness of an economic model
identification of structual, computational and coding errors and flaws
advice on improving the transparency and usability of the model
an excel spreadsheet based technical review checklist
a report detailing the findings and recommendations from the PRIMA process
where corrections are necessary, a copy of the economic model with these corrections
Which models are eligible?
The service is not limited to cost-utility models developed for our technology appraisal programme. PRIMA is available for models developed for pharmaceuticals, medical devices, social care and public health interventions. We welcome models developed for non-UK stakeholders and decision makers.
PRIMA models may be any type of economic analysis:
cost-effectiveness analysis (including cost-consequence analysis, cost-minimisation analysis and cost utility analysis)
benefit analysis
budget impact analysis
PRIMA models may be developed in excel, but are not limited to excel. We use our team of independent experts to assess models within their skillsets, including excel, R and other statistical and modelling packages. All models in excel can be assessed, models in other software are assessed for feasilbilty.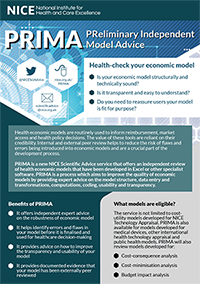 PRIMA
We were delighted to be one of the first companies to work with the PRIMA service, and collaborate with NICE on improving this valuable tool. The Takeda team highly regarded the quality of the PRIMA reports and model review documentation. We appreciated the PRIMA team's engaging and flexible approach at this pivotal stage in development and look forward to using the service as part of our model development efforts going forward.Peter Wheatley-Price, Market Access and Pricing Director at Takeda UK Ltd