Request a talk from one of our experts for your healthcare event.
We can send a representative from NICE, or an expert from our UK network, to speak at events around the world.
What we offer
We provide expert speakers for international events, such as:
conferences, summits and symposiums
exhibitions and trade shows
seminars
launch events
corporate events.
We can talk about our work or tailor the presentation to your requirements.
Our experts are experienced in:
giving inspiring speeches
delivering interactive workshops
leading, and taking part in, panel discussions.
Depending on the circumstances, we will attend in person or by videoconference.
This service is popular with industry event organisers, international policy makers and universities.
The speaking engagement was well prepared, inclusive, relaxed yet professional.

Each speaker was interesting and spoke on topics relevant to our situation.
Costs
NICE International operates on a fee-for-service basis to allow us to cover our costs.
Speaker fees will vary depending on the event and the resources needed. Some expenses, for example to cover the speaker's travel and accommodation, will usually apply.
Contact us
If you'd like to talk to us about an event, please contact us. Our friendly team will be happy to help.
Complete our enquiry form. Select the option to 'Arrange an international speaking engagement' and you'll be asked to enter some information about your requirements.
Alternatively, you can email NICEInternational@nice.org.uk if you prefer. For example, if you want to ask a general question.
We'll review and respond to your enquiry as soon as possible.
Examples of events we've spoken at
Case study: Talking about HTA in South Korea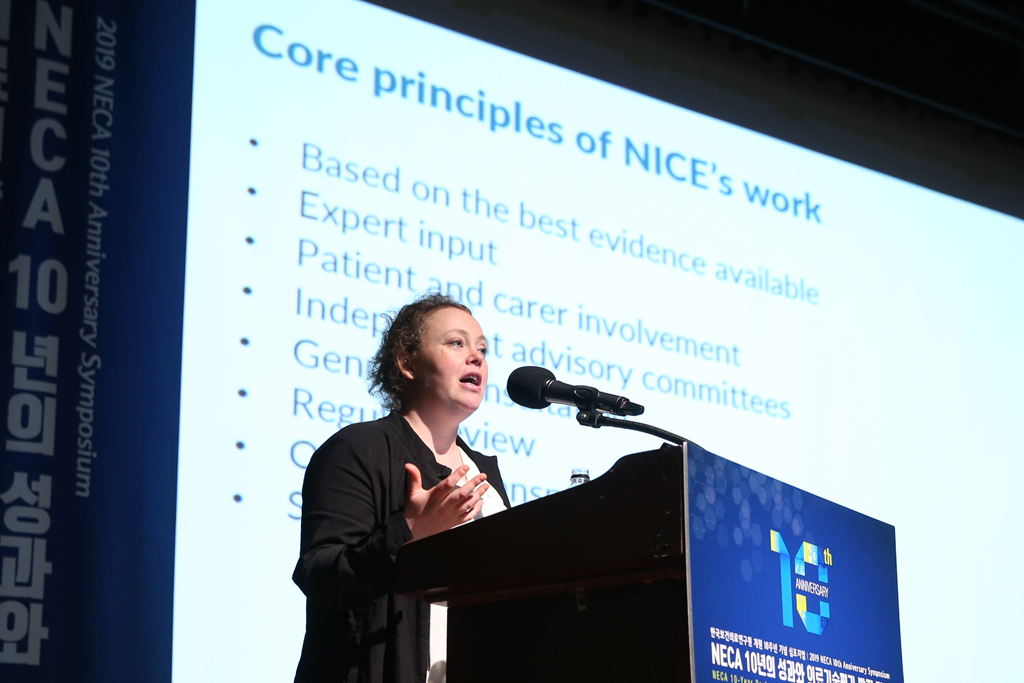 Dr Grace Jennings, senior scientific adviser, spoke about the core principles of NICE's work at the symposium.
The National Evidence-based Healthcare Collaborating Agency (NECA) is a leading health technology assessment (HTA) agency in South Korea.
NECA invited us to speak at their special 10th anniversary symposium: 'The Future Vision of Health Technology Assessment and Development Strategy'.
They asked us to talk about NICE's expertise in HTA.
What was involved?
We created a presentation called 'How to assess and adopt newly developed health technologies'.
We worked closely with NECA to make sure the content met their needs. The presentation covered:
What was the outcome?
The presentation helped NECA and its stakeholders to reflect on their HTA programme and consider ways to improve it.
NECA got an insight into how NICE guides and supports medical device companies to generate evidence-based data.
We received positive feedback from NECA about our presentation and participation at the event.
Thank you for providing such a compelling and informative speech and your enthusiastic participation in our symposium.