This guidance evaluates new, innovative diagnostic technologies. It includes all types of measurements and tests that are used to evaluate a patient's condition.
Diagnostic technologies may be used for various purposes including:
ruling in or out a specific disease
general examination looking for clues to the cause of the symptoms
staging, or additional testing to assess how advanced or severe the disease is
monitoring a patient over time to determine changes in their condition
screening tests to look for conditions in patients without signs or symptoms of the specific condition.
The guidance helps people in the NHS make efficient, cost-effective and consistent decisions about adopting new products. It supports innovation, transformation and improves healthcare delivery.
Get your technology assessed
If you manufacture a diagnostic technology you can ask us to consider it for guidance.
We look at how it compares with technologies already available and if it offers advantages over current practice.
Find diagnostic technologies guidance
learn more about a technology
introduce new technologies at work
develop services using technologies
discover new treatment options.
How we develop guidance
To find out more about how we develop diagnostic technologies guidance, see the: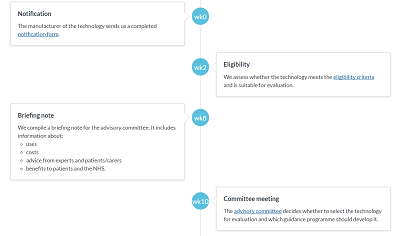 Static list
We regularly review our diagnostics guidance. If there is no new research or evidence available that would have a material effect on a piece of current guidance, it gets moved to the static list.
If new evidence becomes available, the guidance can be transferred back to the active list for further appraisal.
Changes to health technology evaluation
We're reviewing and, where necessary, updating the methods and processes we use to produce guidance around health technologies.
The consultation on the case for change to the methods is now open until 18 December 2020. Tell us your views.