How to search
Search using 1 word or several words
Use 'OR' where you want either term or concept in your results, for example elderly OR older
Don't use 'AND' - terms are automatically combined so that documents containing all of your words are found.
Exact phrase search
Use inverted commas to search an exact phrase. For example, "Needle and syringe programmes" will only return documents containing that exact phrase.
Wildcard search *
To include a wider range of forms of a word, use the 'wildcard' symbol *
For example: searching on clinic* will return documents including the words clinician, clinical, clinic.
Acronyms, alternative spellings and plurals
Acronyms are automatically searched. For example: if you type COPD the search engine will also automatically search for 'chronic obstructive pulmonary disease'.
Alternative spellings are automatically searched. For example: 'paediatric' and 'pediatric'.
Plurals are automatically searched. If you search for pregnancy, it will automatically find pregnancies as well.
Search results
Relevance
The most relevant results appear at the top of search. Relevance takes into account:
How frequently the search terms appear
Where search terms appear in the documents
The type of documents, based on the relative hierarchy of evidence
The date of publication of the document.
Accreditation mark
An accreditation mark next to results is a recognised sign of high-quality processes used to produce guidance and advice.
---
Search results and links
The search result title links to the original source material.
If you see "read summary", it links to a summary page on NICE Evidence search which gives more detail about the document.
The search result also includes:
the name of the source
the document date
the information type.
Click the name of the source or the information type to limit your results to that source or type of information.
Illustration of a NICE evidence search result
---
Sorting
The default setting sorts results by relevance. You can also choose to display them ordered by date – with the most recent at the top.
Illustration of a search result sorted by relevance
Refining search results
Illustration of the filter options you can use


Filters
Use the filters on the left-hand side of the search results to refine your search.
Filter by:
evidence type
areas of interest
accredited
sources
medicine names
date
Available options under evidence type and areas of interest are automatically displayed. Click on the other filter categories to open those lists of available options. Click one of the options to apply the filter to your search results.
---
Select multiple filters
You can select more than one option within a filter:
choose your first option
click on the filter title again to open out the list of options a second time.
You can also apply any number of different filter values. For Illustration:
select 'quality indicators' and 'guidance' from evidence type
select 'NICE' and 'SIGN' from sources.
This gives you quality indicators and guidance search results from either NICE or SIGN.
Illustration of multiple selected filters in NICE evidence search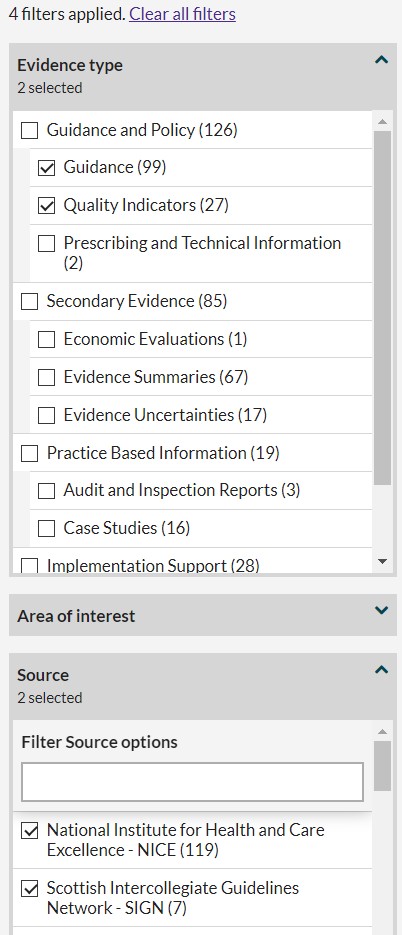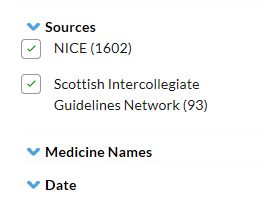 Illustration of the outcome from selecting a top-level evidence type
Selecting a top-level term within the evidence type hierarchy will select all the terms that come below it. Selecting the top term 'practice based information' will automatically select both 'audit and inspection reports' and 'case studies'.
Note: when you select filter values, future searches continue to use those filters.
Remove filters
Unselect them individually or use the 'clear filter' button.
---
Share your results
Use the 'share' logo ( ) at the top of the search results page to share your results via Facebook, Twitter, or email.
Download your results
Use the 'download' link at the top of the search results page to download a subset of your results as a RIS or CSV file. A maximum of 250 results can be downloaded from any single page.

Can't find what you need?
Use the Journals and Databases page to access a set of journals and bibliographic databases purchased by NICE on behalf of the NHS.
You can also contact your local healthcare library service for help and advice.