We're looking for a director to lead the Centre for Guidelines.
Message from Sir Andrew Dillon, Chief Executive

This is an exciting time to join NICE. New science, innovative technologies and a changing political and economic context are combining to create opportunities and challenges for everyone involved in the health and care system. Our unrivalled experience in engaging with and bringing together patients, innovators and the NHS, to deliver improvements in outcomes and the effective use of resources, is needed now more than ever before.
The Director of the Centre for Guidelines is responsible for delivering some of the most important and difficult decisions in British public life. With immediate implications for access to care, the use of NHS, social care and public health resources, and the commercial prospects for life sciences products and companies, the work of the Centre requires a leader with strong science-based evaluative credentials, capable of inspiring a talented team and rapidly gaining and maintaining the confidence of a diverse stakeholder community.
What we do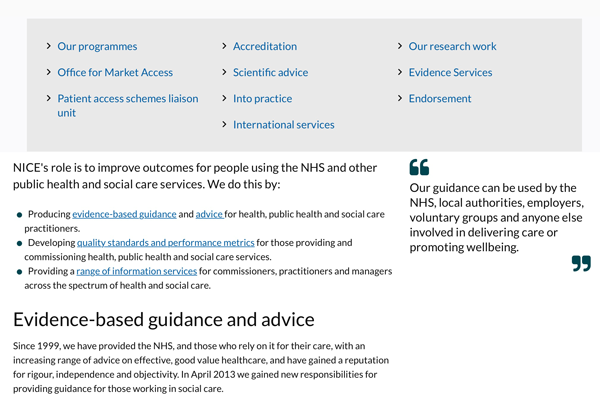 Business plan 2017 to 18
To find out more about our vision and priorities for 2017 to 2018, read our business plan.
Annual review 2016 to 17
For more on our work and achievements, read our latest annual review.
Why work for us?
We have 2 modern offices in the centre of Manchester and London.
Benefits of working with us include:
flexible working
travel schemes
discount at local gyms
flexible working
health and wellbeing support.
Find out more